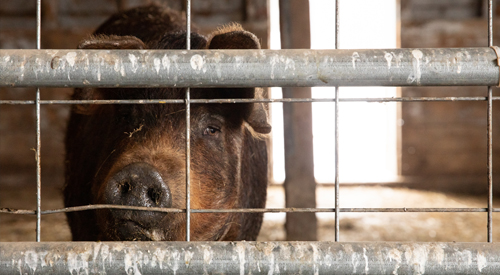 U.S. H.R. 7521/S. 4338—Safe Line Speeds in COVID-19 Act
ASPCA Position: Support
Sponsors: Reps. Marcia Fudge (D-OH), Rosa DeLauro (D-CT), Bennie Thompson (D-MS); Senators Cory Booker (D-NJ), Richard Blumenthal (D-CT), Dianne Feinstein (D-CA), Kamala Harris (D-CA), Jeff Merkley (D-OR), Bernie Sanders (I-VT), Elizabeth Warren (D-MA)
Amid the COVID-19 crisis, the U.S. Department of Agriculture (USDA) continues to move in the wrong direction, reducing protections for animals by allowing a record number of facilities to slaughter chickens, pigs and cattle at even faster speeds.
High-speed slaughter lines imperil animals, workers and food safety under normal circumstances. They are even more harmful at the height of a pandemic, when it's critical for workplaces to effectively meet social distancing and safety guidelines.
The Safe Line Speeds in COVID-19 Act (H.R. 7521/S. 4338), introduced by U.S. Rep. Marcia Fudge (D-OH) and Senator Cory Booker (D-NJ), would protect animals, workers and consumers by prohibiting these dangerous, extreme-speed slaughter and meatpacking systems from operating during the COVID-19 pandemic. The bill also directs the Government Accountability Office to conduct a review of the USDA's actions in response to the COVID-19 pandemic to determine their effectiveness in protecting animal welfare as well as worker and consumer safety.
What You Can Do
You can make a difference by speaking up for animals in slaughterhouses right now!
Please use the form below to email your U.S. representative and senators and urge them to cosponsor the Safe Line Speeds in COVID-19 Act. Congress needs to know that animals, workers and consumers deserve to be protected from the dangers of extreme line speeds, especially during the pandemic.
If any of your legislators have already signed on as cosponsors, our system will instead generate a "thank you" message.
On behalf of America's farm animals, thank you.