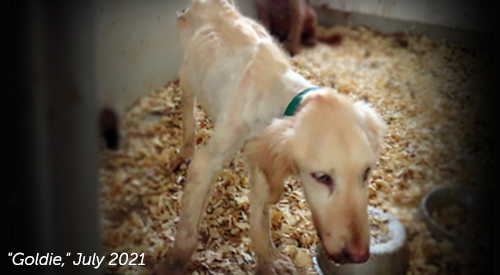 U.S. H.R. 6100—Goldie's Act
ASPCA Position: Support
Sponsors: Reps. Cindy Axne (D-IA), Brian Fitzpatrick (R-PA), Mike Quigley (D-IL), Nicole Malliotakis (R-NY), Susan Wild (D-PA), Vern Buchanan (R-FL), Ed Case (D-HI), Derek Kilmer (D-WA), Brad Schneider (D-IL), Peter Welch (D-VT), Adam Schiff (D-CA), Mark Pocan (D-WI), Julia Brownley (D-CA), Jason Crow (D-CO), Andy Levin (D-MI), A. Donald McEachin (D-VA), and Lou Correa (D-CA)
She didn't have a warm bed. She didn't have anyone who loved her. She didn't have veterinary care when she was not well. She didn't even have a name … we gave her one when we learned about her and the heartbreaking way she died. We named her Goldie.
Goldie spent her life at a U.S. Department of Agriculture (USDA)-licensed puppy mill in Iowa, one of hundreds of dogs kept in horrific conditions. Even though USDA inspectors witnessed Goldie's condition deteriorate over months and they had the authority to help her, USDA policies failed her, and she died in the puppy mill.
The USDA provides licenses to commercial dog breeders and is supposed to protect the animals raised in these facilities. But the agency clearly isn't doing its job, and now Congress must act.
Goldie's Act would mean better inspections, help for animals who are visibly suffering, and meaningful penalties for violations. It also would require the USDA to share information about cruelty and neglect with local law enforcement.
Tragically, it's too late to save Goldie, but we can prevent other dogs from meeting her fate by passing Goldie's Act. 
What You Can Do
Use the easy form below to email your U.S. representative to urge them to support and cosponsor Goldie's Act. Thank you, advocates!