USA: Prevent Widespread Killing of Our Wild Horses!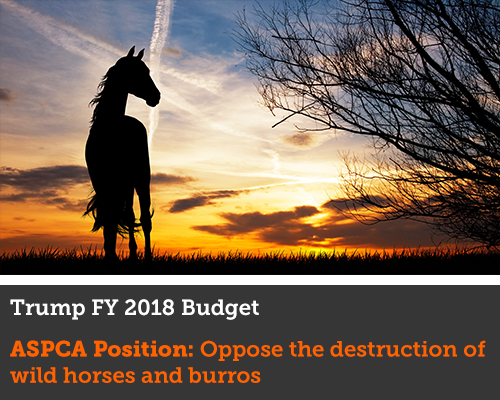 On June 18, the House Appropriations Committee voted to allow the mass killing of our federally protected wild horses and burros. This comes in the wake of the Trump Administration's release of a shocking budget proposal to gut our nation's Wild Horse and Burro Program, which is run by the Bureau of Land Management (BLM) under the Department of Interior. After decades of protection, these symbols of America's free spirit are in serious jeopardy and thousands of wild horses may end up being destroyed.

The BLM's long, infamous history of mismanaging our wild horses has reached its ghoulish climax with this proposal to break up and kill off our treasured wild herds by gunning them down in their pens or on the range.

This reprehensible decision by the House Appropriations Committee is beyond the pale and cannot stand. The BLM has foolishly ignored repeated calls for humane, proactive steps to control the growth of wild horse herds. Wild horses should not have to pay with their very lives for the incompetence of the BLM.
 
What You Can Do
Please take a moment to tell our government that we must preserve and overhaul the Wild Horse and Burro Program and never allow our protected wild horses to slaughter.
Call your U.S. representative and two senators (find their names and numbers here). Say that you are a constituent and you strongly oppose the proposed gutting of the Wild Horse and Burro Program in the Trump Administration's budget.
 
Use the form below to send an email with the same message of opposition to your legislators.
On behalf of America's wild horses, thank you.