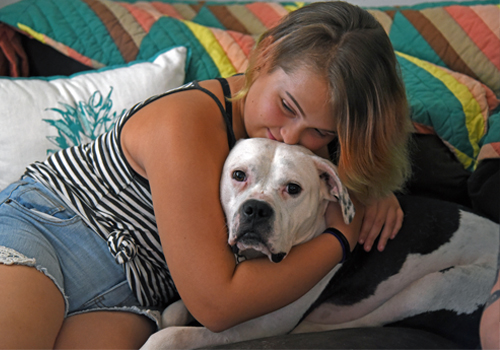 Good news, animal advocates: Independence's law prohibiting the ownership of "pit bulls" is currently under review by the City Council. The Animal Welfare Committee recommended that breed-specific legislation (BSL) be repealed and the city's existing dangerous dog ordinance be modified to improve pet guardian responsibility—this means we have a chance to make meaningful change for all dogs and their families in Independence!
The current breed ban is discriminatory and prevents pets from finding good homes by imposing a $500 penalty and a sentence of up to 60 days in jail for anyone caught violating the rule.
According to a study conducted by the Centers for Disease Control and Prevention, there is zero evidence that banning entire classes of dog breeds makes a community safer. What's more, breed-specific ordinances punish guardians of otherwise friendly, well-socialized dogs.
The neighboring cities of Liberty, Missouri, and Kansas City, Kansas, have already overturned their former discriminatory bans against pit bulls, giving residents the right to freely choose their animal companions.
Independence, you can help reverse this policy by taking action now!
What You Can Do
If you live in Independence, please call Mayor Eileen Weir at (816) 325-7027 and ask her to repeal this ban.

After you make your call, you can take further action by using the form below to email your city government's two "At-Large" councilmembers as well as Mayor Weir and urge them to adopt the Animal Welfare Committee's recommendation to repeal Independence's cruel breed ban.
Thank you for speaking up for the dogs and families of Independence!