Georgia: Protect Puppies & Local Communities!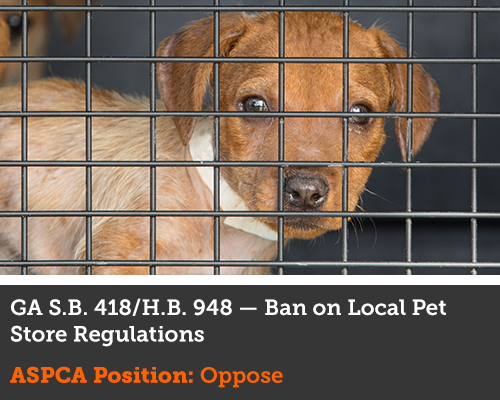 Update—March 16, 2018: Thanks to your support, the Georgia Senate rejected S.B. 418, a proposal that if passed would have stripped towns of their home-rule authority to ban the sale of cruelly-bred dogs in their local pet stores. The bill's companion, HB 948, did not receive a House hearing. This is a huge victory for animals and Georgians alike!

However, we are not out of the woods yet. The puppy mill industry is attempting to amend other bills with their harmful language. On Monday, March 19, we expect them to try and amend H.B. 876 with language that would prevent local governments from banning the sale of puppy mill puppies in existing pet stores. Please help us stop the industry's attempts to gain state protection for stores that sell puppies from mills by making a quick phone call today. See action items below.
The Georgia Legislature is considering a harmful measure that would strip towns of their home-rule authority to ban the sale of cruelly-bred dogs in their local pet stores.
Most puppies sold in pet stores come from puppy mills, cruel breeding facilities that prioritize profit over the health and wellbeing of animals. Dogs in these operations are often kept in overcrowded and unsanitary conditions without adequate veterinary care, food, water or socialization.
These facilities are not only harmful to animals, they are dangerous to humans as well. The Center for Disease Control (CDC) has linked puppies sourced from mills to a multi-state, multi-drug-resistant outbreak of campylobacter, which included victims in Georgia.
Over 250 localities across the nation—including 8 in Georgia—have enacted their own local laws to keep cruelly-bred puppies out of their pet stores and instead promote the adoption of dogs and cats from rescues, humane societies and shelters.
If passed, this amendment could invalidate existing local bans, prevent other communities from passing similar laws, and roll back the progress we've made toward minimizing puppy mill cruelty in Georgia.
 
What You Can Do
We need your help to stop this harmful amendment by taking these two actions right now.
Place quick, polite phone calls to Lieutenant Governor Casey Cagle at

(404) 656-5030

, and then to your state senator asking him or her to protect public health, local control, and animal welfare by opposing the puppy mill amendment to H.B. 876 or any other bill. If you don't know who represents you in the state Legislature, you can find their names and phone numbers here.
 
Then send a follow-up email to your state senator with the same message of opposition using the form below.
Thank you, Georgia!