Florida: Crucial Animal Welfare Bill Needs Your Support Now!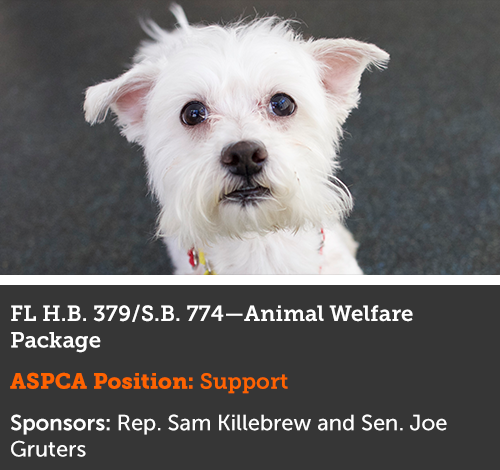 The Florida State House will soon consider H.B. 379/S.B. 774, a critical legislation package that could positively impact the health and welfare of thousands of animals.
If passed, the package would:
Allow veterinarians to report animal cruelty and abuse. Veterinarians are often the first to detect potential cases of animal abuse and neglect. Their ability to report potential cruelty cases to the proper authorities without risking their careers is crucial to protecting animals from potentially life-threatening situations.
 
Keep pets and people together. In a survey conducted by the National Coalition Against Domestic Violence, 85% of women and 63% of children arriving at domestic violence shelters reported witnessing incidents of pet abuse. There is a strong link between domestic violence and animal abuse, with animal abuse often being the first sign of a perpetrator's violent tendencies. H.B. 379/S.B. 774 would allow judges to include pets in protective orders issued to domestic violence victims, ensuring that pets and people are kept together, and at-risk animals and their owners are protected from abuse.
 
Ban predatory pet-leasing practices. More and more puppy-selling pet stores are partnering with private lending companies to sell puppies by using a deceptive leasing scheme. Similarly to a lease for a car or piece of furniture, buyers make low monthly payments over a fixed period while the lender pads the purchase price with hidden fees, high buyout payments, and by requiring the purchase of pet insurance and other services. Since these are leases, the lending company—not the new family—retains ownership of the puppy. This means that if the family misses a payment, the animal can be repossessed. H.B. 379/S.B. 774 would prohibit this deceptive practice.
 
Better protect shelter pets. H.B. 379/S.B. 774 would help protect Florida shelter pets and prevent the spread of disease by ensuring that the existing law requiring all dogs and cats imported into Florida to be accompanied by a health certificate clearly applies to shelters and rescues as well as to individuals. It would also ensure humane shelter euthanasia practices are observed by requiring continuing education for shelter euthanasia technicians.

 
What You Can Do
You are in a special position to help! If you are being directed to this page, it means your state representative is on the committee that will decide the fate of this bill on Wednesday, March 13.
Please take these two actions today:
Use the form below to email your state representative in Tallahassee and urge him or her to vote YES on H.B. 379/S.B. 774 to improve the welfare of Florida's animals.
 
Then, place a quick, polite follow-up phone call to your representative with the same message of support. Don't know who represents you in the State House? You can find your legislator's name and phone number here. This extra step will only take a few moments but can have a tremendous impact on the fate of the bill.
Thank you, Florida!