California: Thank Gov. Brown for Signing Lifesaving Bill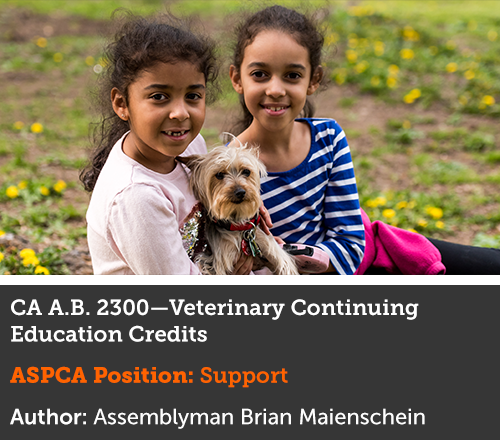 Update—August 28, 2018: Great news! Governor Brown signed A.B. 2300 into law. This legislation will help keep pets and families together as well as reduce shelter intake and euthanasia rates in California. Please see action steps below; join us in thanking the Governor for signing this important bill.
Access to affordable spay and neuter services (S/N) can be lifesaving for pets and vital for community health.
Unfortunately, cost of and access to veterinary services can prevent low-income families from obtaining these critical surgeries for the pets in their care, especially when time off from employment and travel are also a consideration. What's more, this burden can put many low-income families in violation of their community's mandatory spay/neuter ordinance (a local law requiring all pets within the community to be spayed or neutered), which can result in the relinquishment of a beloved pet into the shelter system.
A.B. 2300 would expand access to free spay/neuter services by incentivizing veterinarians to donate their time and medical expertise in exchange for a continuing education (CE) credit. Veterinarians must fulfill 36 hours of biennial credits to meet their CE requirement. A.B. 2300 would allow them to fulfill up to four units of this CE credit by offering pro bono work.
Both New Jersey and New York have successfully implemented similar state laws, with successful outcomes for both the communities that they serve and the educational benefits that veterinarians experience through participation in this hands-on approach.
 
What You Can Do
Please use the form below to send Governor Brown a message of gratitude for signing this important bill into law.