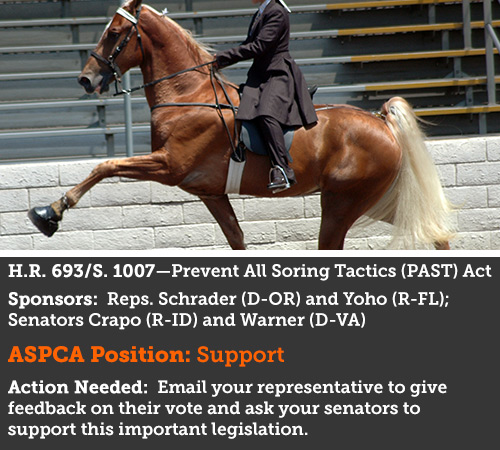 Update—November 20, 2020: Senator Lamar Alexander (R-TN) and the Tennessee Walking Horse Industry are in the process of cutting a deal that puts our progress for horse protection in grave danger. A proposal [PDF] is being floated as a replacement for the broadly supported Prevent all Soring Tactics (PAST) Act that would weaken current law, rather than offer any advancement. This is a bad deal for horses, because it would codify a regulatory system that would allow the practice of soring to persist. Many industry groups, animal welfare groups and veterinarians are united in opposition to this proposed legislation Tell your lawmakers you want the real bill, not a proposal that will weaken protections!

On July 25, 2019, the U.S. House of Representatives overwhelmingly passed legislation to protect horses from the cruel practice of soring. The Prevent All Soring Tactics (PAST) Act, H.R. 693/S. 1007, will address inadequacies in the current law by amending the Horse Protection Act and improving protections for horses. The bill will require horse show organizers who engage inspectors to use only USDA-licensed inspectors, prohibit the use of action devices that intensify the pain caused by soring, and increase the penalties for violations.
Majestic Tennessee Walking Horses have long been cherished, both for their natural and unique four-step gait and their gentle dispositions. The PAST Act will protect these treasured horses from unscrupulous trainers and obscene abuse.

On a positive note, in 2016 the U.S. Department of Agriculture finalized a rule that would have brought about meaningful reform that would have finally ended soring. But they never finalized that rule. Now, with a new administration coming in, we hope to see this rule implemented immediately. With these two clear opportunities to truly protect show horses from this tortuous practice, we must demand real change.
What You Can Do
Please use the form below to email your U.S. senators and representatives to make the PAST Act law, and not to be distracted by dangerous new proposals that claim to be a "compromise" but actually weaken current law. (Our system will generate a letter of thanks if your rep voted in its favor—if your rep voted against the PAST Act, they will be asked to reconsider their position.)
On behalf of the horses, thank you for your help!