This June, I will be participating in the inaugural ASPCA Virtual 5K! I am excited to be participating and honored to be raising the awareness and the much needed funding to support the ASPCA's programs. Your donation will help the ASPCA provide life-saving programs and services to millions of animals nationwide. The ASPCA is very important to me and I appreciate your help as we fight to give abused and homeless animals a second chance at life. Please support me by making a donation and help me make a positive impact in the lives of animals! Thank you! 
I have sense become a monthly doner in name of Tippy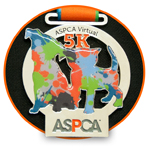 Want to join the ASPCA Virtual 5K? 
Register today to receive your own finisher's medal, race bib, and fundraising page. Get creative and stay active while you make a difference for animals.
Learn More »
---
About the ASPCA: Fighting for animals is a 24/7 job, but your commitment makes it possible for our life-saving programs to create happy endings for those innocent lives touched by cruelty. Every single day of the year, we are rescuing animals from neglect and suffering. With your support, we are able to rescue animals from cruelty, work to end animal homelessness and provide medical care for countless pets in need. Please help us save even more animals and donate to this Team ASPCA campaign today.
Personal campaign progress
$ 1,105.00 raised to date
Personal Fundraising Goal
$ 1,000.00
Recent Donors
| | |
| --- | --- |
| Name | Amount |
| Tippy Hubbell | $1,055.00 |
| Roger Q Hyde, P.C. | $50.00 |
Search for a Team ASPCA Campaign
Select any filter and click on Apply to see results
Start Your Own Campaign
Campaign Donors:
Tippy Hubbell

$ 1,055.00

06 / 8 / 2017

This is my end payment for Team tipper-ripper-hub. This 5K was a lot of fun and done in memory of my late Border Collie Tippy. I loved that boy with all my heart and I miss him so much. Putting him down due to untreatable cancer was the hardest thing I have ever done in my life! He lived to be 17 year old in human years. We meet on a rush hour packed road in the middle of Pontiac, Mich and he ran out in front of my car! He had made it across 2 lanes of traffic and darted in front of me in the 3rd lane and I thought OMG I hit him for sure, as I looked back in my rearview mirror I saw him make it to the center turn lane and just sit down. I knew he wouldn't be so lucky going into the other 3 lanes he would have to cross to get to the other side so I pulled into the center lane and backed up hoping that he would just stay where he was until I could get to him. I jumped out of my car in the middle of the road and ran back to him praying that neither one of us would get hit. As I got to him he was shaking so badly scared to death both of us I made sure he was not hurt and scooped him up in my arms and made it back to my car with him in arms. He was so little we were both shaken up and he looked up at me and started to lick my face and I knew right then and there we would be the best of friend for a long time. I got him home and ran in the house and called my mom out to the car and said look what I found in the middle of the road! She loved him at first sight as I had and said oh my goodness and bent down to pat him. I said mom can we keep him please and she said well we will have to put an add in the paper I'm sure he has owners somewhere. I got a sick feeling in my stomach and thought yeah I guess that is the right thing to do. We put the add in the newspaper and ran it for 7 days. For 7 days I would call at lunch and rush home from work to make sure he was still mine and on the 7th day our household gained a new family member. If you know what a Border Collie looks like mine was black and white 4 white feet and a white chest and a tip of white on the end of his tail hence the name Tippy. He grew up to be a big boy 120 lb's as an adult and as he got older he wasn't able to get up the stairs on the porch so we built a ramp for him to get down to the grass. As a young pup I had gotten "Tip" this really big steel drinking bowl and he loved to put his two front paws in it when he got a drink, so as the long summers came (he had a heavy fur and was so hot)one day on my way home from work I stopped at Aco and got him a hard plastic kiddies pool. I brought it home and took it out back he thought everything in his backyard was his so I filled it up with cold water from the hose and he was dancing all around it taking a drink and barking and having a great time. He liked to bit at the water as it came out the hose and we all stood around and laughed. Then I got on the other side of the filled pool and I called him come one Tippy hop in and he jumped in his pool and stood there for a minute and then just laid down in the nice cool water. That and the air conditioner is how he would stay cool all summer. We would try to catch him before he laid down in the mud and get him dried off enough to go back into the house. He never lost his temper or raised a lip to anyone not even the vet and when he needed his nails trimmed (he didn't like his feet touched for some reason) I just got down with him and gave some extra loving and told him what a good baby he was and we always made it through the hard times. So in memory of you boy, I hope this money that we have raised in this 5K run will go to help all the Tippy's that have come after you. Thank you for teaching me the real meaning of love...