As most of you know, I love animals.
And as most of you also know, I am pigeon toed.  
I've decided to merge these two elements of my life by running (in my hilariously pigeon-toed manner) in a 5K to raise funds for the ASPCA, who work tirelessly to prevent horrendous acts such as cat juggling (www.youtube.com/watch?v=1bGVT4-1DBU). 
This event is a "Virtual 5K." No, this does not mean that I can only pretend to run from the comfort of my own living room while wearing a silly headset.  It just means that I don't have to participate in some large, public event with countless athletic people boasting perfectly aligned feet. With the Virtual 5K, I get to complete my 5Ks on my own time, in my own way, as long as it is between June 1st - 20th. I could even walk around my block 467 times if I so desired.
But, being the brave soul that I am, I have chosen to shrug off my severe aversion to physical exertion and actually RUN the 5.2-K path in nearby Prospect Park in Brooklyn. It won't be easy - this will be the first time in my life that I have run more than a K. Also, people will point and laugh at the big pasty sweaty hairy guy with funny footwork who collapsed after only 1/4th of a K.
Yes, it will take lots of courage. And it will not be a pretty sight when it's over and done with. But I care so much about my four-legged, winged, and/or finned friends that I'm willing to do it. 
I hope you will reward my courage and support this epic tragicomedy by giving to my campaign. Your generous donation will help the ASPCA provide life-saving programs and services to millions of abused and homeless animals nationwide. 
Thank you, and may god have mercy on my silly, mal-aligned legs.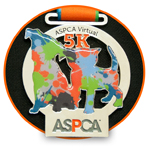 Want to join the ASPCA Virtual 5K? 
Register today to receive your own finisher's medal, race bib, and fundraising page. Get creative and stay active while you make a difference for animals.
Learn More »
---
About the ASPCA: Fighting for animals is a 24/7 job, but your commitment makes it possible for our life-saving programs to create happy endings for those innocent lives touched by cruelty. Every single day of the year, we are rescuing animals from neglect and suffering. With your support, we are able to rescue animals from cruelty, work to end animal homelessness and provide medical care for countless pets in need. Please help us save even more animals and donate to this Team ASPCA campaign today.
Personal campaign progress
$ 1,000.00 raised to date
Personal Fundraising Goal
$ 1,000.00
Recent Donors
Search for a Team ASPCA Campaign
Select any filter and click on Apply to see results
Start Your Own Campaign