Team Kiki and Kaylee - and more!
This June, I will be participating in the inaugural ASPCA Virtual 5K, in that name of both of my 2017 office foster cats - Kiki and Kaylee! The ASPCA Adoption Center, where both Kiki and Kaylee came from, is only one of many life-saving programs that the ASPCA has - I could easily have picked running for: our work in LA; our three amazing Relocation Programs (who coordinate the cute puppy transports I post on FB); our amazing spay/neuter services (which I've used for TNR and rescue cats literally hundreds of times, making my prior rescue work in NYC possible). I could have listed our Behavioral Rehab Center for scared dogs, our amazing Cruelty Intervention team, the Kitten Nursery, our Primary Pet Care clinics that offer medical services to those most in need. The list of ways the ASPCA makes a positive impact for animals is very long! 
But I picked Kaylee and Kiki because they are the little faces I saw the most this year, and I got to watch their positive outcome happen, thanks to this agency! 
I will be running this in LA with my colleague, Keegan, who is running under the team name Punning for Animals! We have a work meeting together in LA around June 13th and thought it would be a great time to run this together!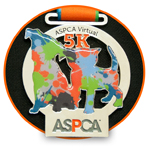 Want to join the ASPCA Virtual 5K? 
Register today to receive your own finisher's medal, race bib, and fundraising page. Get creative and stay active while you make a difference for animals.
Learn More »
---
About the ASPCA: Fighting for animals is a 24/7 job, but your commitment makes it possible for our life-saving programs to create happy endings for those innocent lives touched by cruelty. Every single day of the year, we are rescuing animals from neglect and suffering. With your support, we are able to rescue animals from cruelty, work to end animal homelessness and provide medical care for countless pets in need. Please help us save even more animals and donate to this Team ASPCA campaign today.
Personal campaign progress
Personal Fundraising Goal
$ 100.00
Recent Donors
| Name | Amount |
| --- | --- |
| Eileen Ould | $25.00 |
| basha, rupert, stellaluna and wyatt | $25.00 |
| Anonymous | $10.00 |
| Jacque Schultz | $40.00 |
| Steve P | $25.00 |
Search for a Team ASPCA Campaign
Select any filter and click on Apply to see results
Start Your Own Campaign