Sophia's Holiday Campaign
This Holiday is all about giving and bringing joy to others. In the spirit of this month, I have decided to start a campaign to bring joy not just to humans but also to some of our best friends: our dogs! I have always lived wih a dog especially Samoyeds. I have had three samoyeds throughout my life and in recent years, rescued a miniature australian shepard. As you may already be able to see I am a huge dog lover, and want to do my best to help some of the dogs whose lives may not have been as easy thus far. So in the spirit of giving lets try and do our best to reach our goal and help a lot of dogs who need a place to call home!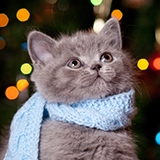 Is the Holiday Spirit calling you to take action for homeless pets and animals in need? You can create your own Holiday Campaign here.
---
 
About the ASPCA: Fighting for animals is a 24/7 job, but your commitment makes it possible for our life-saving programs to create happy endings for those innocent lives touched by cruelty. Every single day of the year, we are rescuing animals from neglect and suffering. With your support, we are able to rescue animals from cruelty, work to end animal homelessness and provide medical care for countless pets in need. Please help us save even more animals and donate to this Team ASPCA campaign today.
Personal campaign progress
Personal Fundraising Goal
$ 1,000.00
Suggested Donation
$25.00
Recent Donors
Search for a Team ASPCA Campaign
Select any filter and click on Apply to see results
Start Your Own Campaign
Campaign Donors:
Larissa O'Connell

$ 25.00

12 / 21 / 2015

Good luck. Happy paw-lidays...Hope this helps a little. God bless.

Monique

$ 50.00

12 / 10 / 2015

This is awesome! Good Luck Sophia! :) "Kind people are the best kind of people."

Christie Philbrick-Wheaton

$ 50.00

12 / 10 / 2015

My dogs say, "Woof, woof woof woof, woof!" (which translates to "Thanks for helping our less fortunate buddies, Sophia!") Great work! :)

Danica Cordell-Reeh

$ 25.00

12 / 4 / 2015

Sirius B Siri and Lulu La Diablesse wish to help and wish Cooper and Gracie a fur filled holiday.

andrew jacobs

$ 100.00

12 / 3 / 2015

Great cause, Soph. After all, dogs are Man (and Woman's) best friend!

Martha Redding

$ 25.00

12 / 3 / 2015

From Beya, in honor of all her Sammi friends, especially Max!

sue jacobs

$ 100.00

12 / 3 / 2015

great campaign, good luck!