Sassy June for Shelter Pets
Sassy June and I have joined in since the ASPCA's first Virtual 5K, to raise awareness of and funding for neglected and abused animals nationwide.
Sassy June (whose given name is Sasha) is a Shelter Rescue, who came to us at the age of six from the Ayers Memorial Animal Shelter (a no-kill shelter) in Sprakers, NY. Thanks to Marissa Glasser and staff, animals like Sassy are given a second lease on life!
When she came to her forever home in August 2016, she was a skinny, skittish dog, afraid of strangers, with a bald spot from a flea infestation. She spent much of her time hiding under the bed. Since then, she has regained her confidence in herself and humankind, her fur has grown in, and she's now a happy, excitable dog with kisses enough for everyone. She's well on her way to what we hope will be a full recovery from her previous, traumatic life.
Please donate to the ASPCA through Sassy June's website, or make a contribution to your local shelter if you prefer. Help us to write more happy endings to some sad stories.
I am excited to be participating and honored to be raising the awareness and the much needed funding to support the ASPCA's programs. Your donation will help the ASPCA provide life-saving programs and services to millions of animals nationwide. The ASPCA is very important to me and I appreciate your help as we fight to give abused and homeless animals a fighting chance.
Our personal fundraising efforts are dedicated to the memory of Chuy ("Scooby-Doo" ), Sassy's predecessor, and my 15+ year companion on this journey.
On behalf of those who can't speak for themselves,
Thank you! 
Sassy June & Scott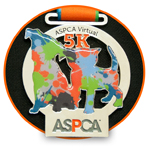 Want to join the ASPCA Virtual 5K? 
Register today to receive your own finisher's medal, race bib, and fundraising page. Get creative and stay active while you make a difference for animals.
Learn More »
---
About the ASPCA: Fighting for animals is a 24/7 job, but your commitment makes it possible for our life-saving programs to create happy endings for those innocent lives touched by cruelty. Every single day of the year, we are rescuing animals from neglect and suffering. With your support, we are able to rescue animals from cruelty, work to end animal homelessness and provide medical care for countless pets in need. Please help us save even more animals and donate to this Team ASPCA campaign today.
Personal campaign progress
Personal Fundraising Goal
$ 500.00
Search for a Team ASPCA Campaign
Select any filter and click on Apply to see results
Start Your Own Campaign