Rosita's Holiday Campaign
My companion Rocky is only 2 years old and is needing immediate surgery today on Christmas Day! This will be Rockys 2nd surgery because he managed to chew up a softball which he ingested and tore up his intestines. The vet sent him home with us 2 days ago after operating on him. We have been caring for him and thought he was getting better but this morning we went to walk him and his stitches were bleeding.. Just pouring out! His chances are slim but we are pulling for him and Rocky is in surgery right now. He needs long term care if he pulls through. Please help to donate whatever you can to help my baby!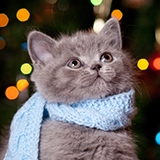 Is the Holiday Spirit calling you to take action for homeless pets and animals in need? You can create your own Holiday Campaign here.
---
 
About the ASPCA: Fighting for animals is a 24/7 job, but your commitment makes it possible for our life-saving programs to create happy endings for those innocent lives touched by cruelty. Every single day of the year, we are rescuing animals from neglect and suffering. With your support, we are able to rescue animals from cruelty, work to end animal homelessness and provide medical care for countless pets in need. Please help us save even more animals and donate to this Team ASPCA campaign today.
Personal campaign progress
Personal Fundraising Goal
$ 5,000.00
Suggested Donation
$25.00
Search for a Team ASPCA Campaign
Select any filter and click on Apply to see results
Start Your Own Campaign