Ro's ASPCA Holiday Campaign
Hi friends and family! The holidays are all about giving. That's why, this season, I'm inviting you to make a difference for animals who so desperately need your love and help. My mom and sister just adopted a precious, playful and now safe rescue named Murphy, whose pic is shown in this campaign. He has teeth missing from chewing on his cage he was in for so long. He is my hope and inspiration. Along with Murphy's pic is Izzie, a rescue that my sons and I were lucky enough to find and adopt. We knew she had been abused due to her extremely shy and skittish demeanor. She is now happy and safe and has come out of her shell. I see countless heart-wrenching commercials with bitter stories and pictures about neglected pets, have you seen them? If you care at all you probably change the channel because it's just unbearable to watch. Now, here, you can offer a quick one time helping hand with no strings attached, and inspire others to do the same! PLEASE open your hearts and Join me in raising funds to brighten the lives of so many homeless pets and animals in need.
Your donation will help the ASPCA provide life-saving programs and services to millions of animals nationwide. The ASPCA is so important and We appreciate your help as they fight to give abused and homeless animals a second chance at life. If you can, please support the efforts of this wonderful organization by making a donation - you will make a positive impact in the lives of  helpless animals! Thank you! Enjoy your holidays! All the best to you and your loved ones!! Ro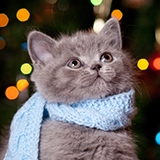 Is the Holiday Spirit calling you to take action for homeless pets and animals in need? You can create your own Holiday Campaign here.
---
 
About the ASPCA: Fighting for animals is a 24/7 job, but your commitment makes it possible for our life-saving programs to create happy endings for those innocent lives touched by cruelty. Every single day of the year, we are rescuing animals from neglect and suffering. With your support, we are able to rescue animals from cruelty, work to end animal homelessness and provide medical care for countless pets in need. Please help us save even more animals and donate to this Team ASPCA campaign today.
Personal campaign progress
Personal Fundraising Goal
$ 500.00
Suggested Donation
$25.00
Recent Donors
| Name | Amount |
| --- | --- |
| BULLET LYNCH | $25.00 |
Search for a Team ASPCA Campaign
Select any filter and click on Apply to see results
Start Your Own Campaign