Baby Reese is a sassy little black cat who came to live with us as a foster kitten and charmed her way into becoming a permanent member of the household. She was fostered and subsequently adopted through a no-kill cat shelter local to me in Columbus, Ohio - Cat Welfare Association. As a tiny kitten, she had been dumped in a glass pickle jar by the garbage pick-up outside the shelter. Inside the jar, she was huddled up with her brother, who ended up getting a loving home with another local family when they grew old enough to be officially adopted.
Reese may be a spunky little cat with a little bit of an attitude, but she also has a lot of love for the humans that have opened their hearts to her. As a kitten, she was shy and scared, but once she learned to trust, she became a happy little kitty and fully enjoyed her new home. Now, why not give back to support animal rescue, and to help other cats and pets find the love and care they need, too? 
This Fall, I will be participating in the ASPCA Virtual 5K! I would love to raise at least $200 for the American Society for the Prevention of Cruelty to Animals (ASPCA). I am excited to be participating and honored to be raising the awareness and the much-needed funding to support the ASPCA's valuable programs. Your donation will help the ASPCA provide life-saving programs and services to millions of animals nationwide. 
The ASPCA is very important to me and I appreciate your help as we fight to give abused and homeless animals a second chance at life. Please support me by making a donation and help Reese and I make a positive impact in the lives of animals. There are so many who need our help! Thank you!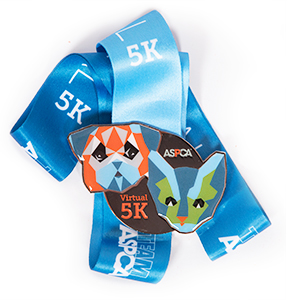 Want to join the ASPCA Virtual 5K?
Register today to receive your own finisher's medal, race bib, and fundraising page. Get creative and stay active while you make a difference for animals. Learn More »
---
About the ASPCA: Fighting for animals is a 24/7 job, but your commitment makes it possible for our life-saving programs to create happy endings for those innocent lives touched by cruelty. Every single day of the year, we are rescuing animals from neglect and suffering. With your support, we are able to rescue animals from cruelty, work to end animal homelessness and provide medical care for countless pets in need. Please help us save even more animals and donate to this Team ASPCA campaign today.
Personal campaign progress
Personal Fundraising Goal
$ 200.00
Recent Donors
| Name | Amount |
| --- | --- |
| Anonymous | $10.00 |
Pages
Search for a Team ASPCA Campaign
Select any filter and click on Apply to see results
Start Your Own Campaign