Hi ya'll!  It's Penny, the Jack Russell!  Jo (my lazy human) and I will be biking in the 2019 ASPCA Virtual 5K!  Help us kick fundraising arse all day every day!
Your donation will help the ASPCA provide life-saving programs and services to millions of abused and homeless animals nationwide, allowing them a second chance at life...not to mention the boatload of good karma that'll be coming your way! ;-)
Your donation will put a smile on my fuzzy face and a wag in my tail, and remember:
A Happy Dog Makes for a Happy Human.
So go on and donate...you know you want to!  That's it...just move your lil paw down to that donate button and apply a wee bit of pressure.  See?  Didn't that feel good?  Now give yourself a belly rub because you did a damn good thing.  Your parents would be proud.  Thank you!!!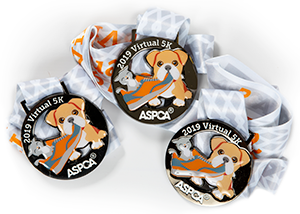 Want to join the 2019 ASPCA Virtual 5K?
Register today to receive your own finisher's medal, race bib, and fundraising page. Get creative and stay active while you make a difference for animals. Learn More »
---
About the ASPCA: Fighting for animals is a 24/7 job, but your commitment makes it possible for our life-saving programs to create happy endings for those innocent lives touched by cruelty. Every single day of the year, we are rescuing animals from neglect and suffering. With your support, we are able to rescue animals from cruelty, work to end animal homelessness and provide medical care for countless pets in need. Please help us save even more animals and donate to this Team ASPCA campaign today.
Personal campaign progress
Personal Fundraising Goal
$ 150.00
Search for a Team ASPCA Campaign
Select any filter and click on Apply to see results
Start Your Own Campaign