Nemo, Peanut and Rocky's Christmas
Every Christmas, I sit beside the ocean with my head up towards the stars and I count: I count thoughts. Thoughts of Austen and Poe and all things remarkable to the realm of fictional romance. I count the number of times I prayed to God instead of the irreverent future. The number of times I marveled at the natural rouge of my mother's cheeks and those enviably cheekbones that only Tim Burton could paint in gaunt beauty. I count skies and eyes unknown to them. But, less than them all, I count silence and the present moment. It is only when I get home that night with more makeup than necessary pressing against my pillowcase that I find that presence of eternal "nowness", as Tolle would call it, to the right of my tangled hair; some more concealed within my throw and still more sitting on my chest and breathing warmly onto my neck. These little spiritual beings, creatures of remarkable presence and un-prejudiced love, my "dogs" as one would say, guide me every day away from figures, statistics, shadows and non-essentials, which, if you have the courage to finally acknowledge, have no weight to the present moment. I have traveled, not too far, but traveled nonetheless, to places where the noise of past and future, problems and calculations cloud absolutely everything, but God is kind and places an animal in my path. Everything disappears. What of any of these things does an animal of whatever intellectual capacity you may deem want with these legos of unsettlement. They focus on you, and whether you form a deep connection in your seven second conference, they bring you to look at what is immediate and cost-free, the present moment. I collected enough of these moments to make a short and concise decision about the direction of my future, veterinary medicine, and not too soon afterwards continued to live the present.
This December I ask you to help me celebrate the gift of the present with my three spiritual teachers (Nemo, Peanut and Rocky) and all the wonderful Buddhas roaming this earth. They have enlightened my experience of life beyond any intellectual comparison; sorry University Professors. They have given purpose and direction to my life, and as I start this new journey this coming year, I hope that you all will donate what you have to the ASPCA and any other gathering of kind hearted individuals trying to protect the innocent, beautiful, intelligent, feeling creatures of this earth. Money is a great gift, but twice the weight of any innumerable check is vision, voice and support. Divert your eyes from emotional comfort for just a few minutes and give your attention to the deprivation of animal rights in many countries and providences. Practice your whisper into a loud roar. Support those animal rights activists, veggie enthusiasts, environmentalists and friends for change around you. Join a local cause. Sign a petition! Any small step is monumental in the eyes of the ones you love. I love you and every animal you save or give a voice to loves you too.
I hope we can pioneer a new season of true gifts. I would love this one from you. If you find a way you to be more active in the animal rights community I would be more than grateful to be there with you. I believe this coming year is going to be a positive one. I ask for your prayers for these innocent creatures and the horros committed against them. I believe prayers can never be taken away from us. If not to God, pray to the stars: look up to the night sky and donate your thoughts to the silence. We are all little beasties searching for the magical present. 
A word from ASPCA: The holiday season is all about giving. This holiday, help the ASPCA save animals lives! Your donation will help the ASPCA provide life-saving programs and services to millions of animals nationwide. The ASPCA is very important to Bianca and we appreciate your help as we fight to give abused and homeless animals a second chance at life. In lieu of holiday gifts, please show you support by making a donation and helping make a positive impact in the lives of animals! Thank you!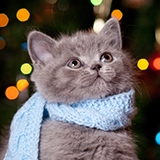 Is the Holiday Spirit calling you to take action for homeless pets and animals in need? You can create your own Holiday Campaign here.
---
 
About the ASPCA: Fighting for animals is a 24/7 job, but your commitment makes it possible for our life-saving programs to create happy endings for those innocent lives touched by cruelty. Every single day of the year, we are rescuing animals from neglect and suffering. With your support, we are able to rescue animals from cruelty, work to end animal homelessness and provide medical care for countless pets in need. Please help us save even more animals and donate to this Team ASPCA campaign today.
Personal campaign progress
Personal Fundraising Goal
$ 500.00
Suggested Donation
$25.00
Recent Donors
| Name | Amount |
| --- | --- |
| Tomas Gual | $10.00 |
| Yvette Laclaustra MD | $100.00 |
Search for a Team ASPCA Campaign
Select any filter and click on Apply to see results
Start Your Own Campaign