ME can't stop me! Team Fynlee
My name is Fynlee and I have Megaesophagus (ME). This June, I will be participating in the inaugural ASPCA Virtual 5K! In addition to fundraising to support ASPCA's amazing programs, I also want to help raise awareness for Megaesophagus (ME).
Megaesophagus (ME) is a condition in which the esophagus does not function properly, is dilated, or enlarged, and is no longer able to propel food into the stomach. A normal esophagus moves food to the stomach with wave-like contractions called peristalsis. An ME dog's esophagus loses its muscle tone, becomes enlarged, and can develop pockets where food can become trapped. Since the esophagus does not function normally, food sits in the esophagus and doesn't make its way to the stomach. This can cause malnutrition and regurgitation. 
While I will be dealing with this condition for life, that doesn't mean I can't be a normal happy puppy! My humans help me eat breakfast and dinner by blending my dog food with water and feeding me in a bailey chair (2nd and 3rd photos). This comfy chair keeps me in an upright position so that gravity can help pull food down into my stomach. All my humans have to do is open the front panel and I hop up into my chair all by myself! (Watch my video below) My humans also put a neck hug pillow on me every night while I sleep and sometimes during the day when I take naps (4th photo). This pillow helps to keep my head and neck elevated so that any remaining food, saliva or stomach acid does not just sit and build up in my esophagus. This helps to keep me from regurgitating and helps me sleep peacefully!
Megaesophagus is not a death sentence! For more info on MegaE, visit CanineMegaesophagusinfo.com
Your donation will help the ASPCA provide life-saving programs and services to millions of animals nationwide. The ASPCA is very important to me and I appreciate your help as we fight to give abused and homeless animals a second chance at life. Please support me by making a donation and help me make a positive impact in the lives of animals!
Thank you!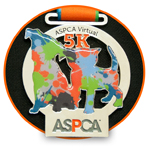 Want to join the ASPCA Virtual 5K? 
Register today to receive your own finisher's medal, race bib, and fundraising page. Get creative and stay active while you make a difference for animals.
Learn More »
---
About the ASPCA: Fighting for animals is a 24/7 job, but your commitment makes it possible for our life-saving programs to create happy endings for those innocent lives touched by cruelty. Every single day of the year, we are rescuing animals from neglect and suffering. With your support, we are able to rescue animals from cruelty, work to end animal homelessness and provide medical care for countless pets in need. Please help us save even more animals and donate to this Team ASPCA campaign today.
Personal campaign progress
Personal Fundraising Goal
$ 75.00
Recent Donors
| Name | Amount |
| --- | --- |
| Anonymous | $25.00 |
Search for a Team ASPCA Campaign
Select any filter and click on Apply to see results
Start Your Own Campaign