Makayla's Holiday Campaign
The holidays are all about giving. That's why, this season, I am making a difference for animals. Join me in raising funds to brighten up the holidays for homeless pets and animals in need. I'm fourteen, and have a total of three cats between my moms and dads house.  Having an antisocail cat at one house, and someone who is alergic to cats at the other, I am unable to adopt another cat.  I'm creating this campaign so that I can help abandoned animals even though I am unable to get a new one!
Your donation will help the ASPCA provide life-saving programs and services to millions of animals nationwide. The ASPCA is very important to me and I appreciate your help as we fight to give abused and homeless animals a second chance at life. In lieu of holiday gifts, please support me by making a donation and help me make a positive impact in the lives of animals! Thank you!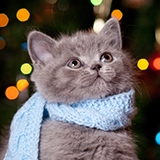 Is the Holiday Spirit calling you to take action for homeless pets and animals in need? You can create your own Holiday Campaign here.
---
 
About the ASPCA: Fighting for animals is a 24/7 job, but your commitment makes it possible for our life-saving programs to create happy endings for those innocent lives touched by cruelty. Every single day of the year, we are rescuing animals from neglect and suffering. With your support, we are able to rescue animals from cruelty, work to end animal homelessness and provide medical care for countless pets in need. Please help us save even more animals and donate to this Team ASPCA campaign today.
Personal campaign progress
Personal Fundraising Goal
$ 250.00
Suggested Donation
$25.00
Search for a Team ASPCA Campaign
Select any filter and click on Apply to see results
Start Your Own Campaign