This June, I will be participating in the inaugural ASPCA Virtual 5K! Ever since I was young, I've always had a love for animals (see the sweet photo in the gallery as evidence) so participating in this race was a no brainer. In addition, if you know me, it should come as no surprise that the ASPCA means a lot to me. My time spent there has led to many amazing experiences, both professionally and personally. For over a decade, I have been able to see firsthand the incredible work this organization does in fighting animal cruelty, rescuing abused animals and advocating for stronger laws to protect animals.
However, no experience has been greater than adopting Lucy from the ASPCA. She's the first dog I've ever cared for on my own and she's had a profound impact on my family's life. Okay, she hasn't made my wife a dog person, but she did make her a Lucy person pretty quickly. She's taught Oscar the joy of growing up with a dog. And among many other things, she's the best running partner I could ask for. That's why when I told her about this race, she said we immediately needed to sign up. Well, she more just wagged her tail happily and licked my face, which is her standard reaction to most anything. However, I'm sure she's on board.
Lucy also is a constant reminder of the incredible work the ASPCA does every day on behalf of animals across the country. Her happy outcome is just one of the millions the ASPCA makes possible through its life-saving programs and services. Your support will help animals like Lucy and any gift you make will be put to use to give abused and homeless animals a second chance at life. So unless you hate puppies and kittens (and let's be serious no one hates puppies and kittens) please join me in supporting the ASPCA by making a donation and help me make a positive impact in the lives of animals!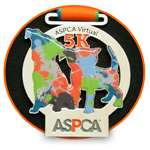 Want to join the ASPCA Virtual 5K? 
Register today to receive your own finisher's medal, race bib, and fundraising page. Get creative and stay active while you make a difference for animals.
Learn More »
---
About the ASPCA: Fighting for animals is a 24/7 job, but your commitment makes it possible for our life-saving programs to create happy endings for those innocent lives touched by cruelty. Every single day of the year, we are rescuing animals from neglect and suffering. With your support, we are able to rescue animals from cruelty, work to end animal homelessness and provide medical care for countless pets in need. Please help us save even more animals and donate to this Team ASPCA campaign today.
Personal campaign progress
Personal Fundraising Goal
$ 500.00
Recent Donors
| | |
| --- | --- |
| Name | Amount |
| Zach Ortmann | $25.00 |
| Graham Knope | $100.00 |
| Todd Hendricks | $50.00 |
| Lindsay Lawrie | $25.00 |
| Letal & Dutch | $25.00 |
Search for a Team ASPCA Campaign
Select any filter and click on Apply to see results
Start Your Own Campaign
Campaign Donors:
Lindsay Lawrie

$ 25.00

04 / 11 / 2017

Way to go Luke & Lucy!!

Letal & Dutch

$ 25.00

04 / 11 / 2017

Go Lucy!!