Lindsay's birthday campaign
For my birthday this year, I would like anyone who can to give a donation to the ASPCA!
As bonus incentive to you, my dog Banjo and I are even going to run a 5k on November 1st, so that you can feel like we're really working for it.
Though I'm not new to loving animals by any means, adopting a dog has changed my life. Banjo has honestly become my best friend, espcially here in a season where most of the people closest to me are over 1000 miles away. The bond we have is so amazing, I want to do what I can go unite more people with the right pet for them (and I'm sure Banjo feels the same way). I volunteer at a local SPCA and I would like to use this time to help support the ASPCA as well.
If you would buy me a beer for my birthday, donate $5. If you would buy me a pedicure, donate $20. Your donation will mean more to a pet in need than a material item will to me! :)
Consider options like promising a few cents per improvment in Banjo's 5k time. He currently runs a 32:19 (but only because I slow him down!).
As always, you can follow my dog on insta at instagram.com/banjo.the.pupperino :)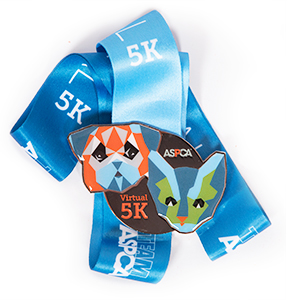 Want to join the ASPCA Virtual 5K?
Register today to receive your own finisher's medal, race bib, and fundraising page. Get creative and stay active while you make a difference for animals. Learn More »
---
About the ASPCA: Fighting for animals is a 24/7 job, but your commitment makes it possible for our life-saving programs to create happy endings for those innocent lives touched by cruelty. Every single day of the year, we are rescuing animals from neglect and suffering. With your support, we are able to rescue animals from cruelty, work to end animal homelessness and provide medical care for countless pets in need. Please help us save even more animals and donate to this Team ASPCA campaign today.
Personal campaign progress
Personal Fundraising Goal
$ 500.00
Recent Donors
Search for a Team ASPCA Campaign
Select any filter and click on Apply to see results
Start Your Own Campaign