Layla's walking! Can't keep a HotDog down!
 I started my day with a cup of coffee and gave Layla her biscuit, I noticed she seemed sad and did not jump into my lap,  as was her routine. We took her to the Veterinarian who prescribed an anti inflammatory and rest. The next day she could not use her back legs, she was paralyzed. This poor little dog was so scared and shaking, fortunately we found a specialist who performed surgery and I am happy to say Layla gets around quite well . She is a happy little dog who uses her wheelchair for walks around the neighborhood, and is very active at home. I am doing a virtual 5K for the ASPCA and am asking for donations for all the animals who are not so fortunate as Layla , any amount will help! Thank you so much!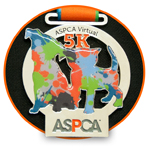 Want to join the ASPCA Virtual 5K? 
Register today to receive your own finisher's medal, race bib, and fundraising page. Get creative and stay active while you make a difference for animals.
Learn More »
---
About the ASPCA: Fighting for animals is a 24/7 job, but your commitment makes it possible for our life-saving programs to create happy endings for those innocent lives touched by cruelty. Every single day of the year, we are rescuing animals from neglect and suffering. With your support, we are able to rescue animals from cruelty, work to end animal homelessness and provide medical care for countless pets in need. Please help us save even more animals and donate to this Team ASPCA campaign today.
Personal campaign progress
Personal Fundraising Goal
$ 1,000.00
Recent Donors
| Name | Amount |
| --- | --- |
| elaine bova-nicholson | $40.00 |
Search for a Team ASPCA Campaign
Select any filter and click on Apply to see results
Start Your Own Campaign