As we ring in 2018, my thoughts turn to the fuzzy beasts that pile upon my head and legs for warmth at night, immobilizing me until the early dawn when they start smacking said noggin and yowling for food. My life is substantially improved by my furry creatures; and no matter how they join us on our journey; I think we can all agree that they are the best part of our year, every year. Let's do something to help the little buddies who need it.   The American Society for the Prevention of Cruelty to Animals (ASPCA) does amazing things for homeless and abused critters. Many of you know them and/or adopted through them. Mr. Dantingo Ringante came to me throught the ASPCA but don't hold that against them! (Gulliver Monkeypants came from the back of a bar, but his litter sure could have used the help. I'm not made out of gold.)  If you can, donate $1, $5, $20- whatever amount you prefer! 100% of what you donate goes to the ASPCA. I'll announce the total at 12:05 am during the party.   Thanks Party Animals!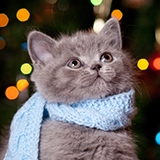 Is the Holiday Spirit calling you to take action for homeless pets and animals in need? You can create your own Holiday Campaign here.
---
 
About the ASPCA: Fighting for animals is a 24/7 job, but your commitment makes it possible for our life-saving programs to create happy endings for those innocent lives touched by cruelty. Every single day of the year, we are rescuing animals from neglect and suffering. With your support, we are able to rescue animals from cruelty, work to end animal homelessness and provide medical care for countless pets in need. Please help us save even more animals and donate to this Team ASPCA campaign today.
Personal campaign progress
Personal Fundraising Goal
$ 100.00
Recent Donors
Search for a Team ASPCA Campaign
Select any filter and click on Apply to see results
Start Your Own Campaign