Wallington School District
The holidays are all about giving. That's why, this season, we are making a difference for animals. Join us in raising funds to brighten up the holidays for homeless pets and animals in need. The students and faculty of the Wallington School District are having our 3rd annual district-wide celebration of "National Ugly/Holiday Sweater Day" on Friday, December 7, 2018. To support this campaign, staff members can wear a holiday sweater for donating $5 or more to the ASPCA. Students can also take part by wearing a holiday sweater or shirt - donations from students are not necessary, but always welcome as every penny counts and is very much appreciated! I am very proud of the success that we had last year, and hope that we can surpass our donation total this December. We all love our pets, our furry family members, and we know that not all animals are lucky enough to have forever families. With all of the recent storms and fires in California, many beloved pets have been displaced, and one of the things the ASPCA does is to care for them until they can be reunited with their families. Your donation will help the ASPCA provide life-saving programs and services to millions of animals nationwide. The ASPCA is very important to us and we appreciate your help as we fight to give abused and homeless animals a second chance at life. Please support us by making a donation and help us make a positive impact in the lives of animals! Thank you!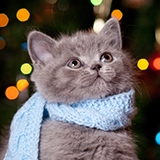 Is the Holiday Spirit calling you to take action for homeless pets and animals in need? You can create your own Holiday Campaign here.
---
 
About the ASPCA: Fighting for animals is a 24/7 job, but your commitment makes it possible for our life-saving programs to create happy endings for those innocent lives touched by cruelty. Every single day of the year, we are rescuing animals from neglect and suffering. With your support, we are able to rescue animals from cruelty, work to end animal homelessness and provide medical care for countless pets in need. Please help us save even more animals and donate to this Team ASPCA campaign today.
Personal campaign progress
Personal Fundraising Goal
$ 500.00
Suggested Donation
$25.00
Recent Donors
| Name | Amount |
| --- | --- |
| Wallington School District's Fundraiser | $709.00 |
Search for a Team ASPCA Campaign
Select any filter and click on Apply to see results
Start Your Own Campaign