In loving memory of 
Olivia Maeve 
May 4, 2010 - September 9, 2014
This fundraiser & 5K is very important to me because its in memory of my soul-cat Olivia....and its my very first race! I would feel honored to have your support. 
I am an avid-hiker and yogi. For quite some time now I have wanted to take up running again. This first 5K will help me train to run! I am also an animal-lover:
I have fostered 3 cats and adopted 4 other cats in the past 10 years. 
Oliver: bought at a petstore that was advertising HALLOWEEN colored cats the week before Halloween. I couldn't believe how careless they were! Thankfully Oliver was adopted by us! He will be 10 years old in August. 
Oscar: Adopted from an animal shelter. Oscar now lives with my sister & her family. Oscar will be 9 years old in October.
Olivia (& her two brothers and mom): I found a pregnant stray cat at a gas station and a week later Olivia and her siblings were born. We paid to have Olivia, her two brothers and her mother spayed & neutered with vaccines. We rehomed Olivia's siblings and mom. Olivia lived with us till she passed away. 
Gypsy: Rescued ONE hour before she was to be euthanized. Gypsy is Olivia's legacy cat. Gyp will be 3 years old on the 4th of July!
This June, I will be participating in the inaugural ASPCA Virtual 5K! I am excited to be participating and honored to be raising the awareness and the much needed funding to support the ASPCA's programs. Your donation will help the ASPCA provide life-saving programs and services to millions of animals nationwide. The ASPCA is very important to me and I appreciate your help as we fight to give abused and homeless animals a second chance at life. Please support me by making a donation and help me make a positive impact in the lives of animals! Thank you!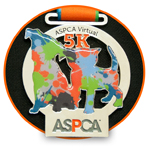 Want to join the ASPCA Virtual 5K? 
Register today to receive your own finisher's medal, race bib, and fundraising page. Get creative and stay active while you make a difference for animals.
Learn More »
---
About the ASPCA: Fighting for animals is a 24/7 job, but your commitment makes it possible for our life-saving programs to create happy endings for those innocent lives touched by cruelty. Every single day of the year, we are rescuing animals from neglect and suffering. With your support, we are able to rescue animals from cruelty, work to end animal homelessness and provide medical care for countless pets in need. Please help us save even more animals and donate to this Team ASPCA campaign today.
Personal campaign progress
Personal Fundraising Goal
$ 250.00
Recent Donors
| Name | Amount |
| --- | --- |
| Anonymous | $25.00 |
| Grandma Shirley M | $10.00 |
Search for a Team ASPCA Campaign
Select any filter and click on Apply to see results
Start Your Own Campaign