This June, I will be participating in the inaugural ASPCA Virtual 5K! I am excited to be participating and honored to be raising the awareness and the much needed funding to support the ASPCA's programs. Your donation will help the ASPCA provide life-saving programs and services to millions of animals nationwide. The ASPCA is very important to me and I appreciate your help as we fight to give abused and homeless animals a second chance at life. Please support me by making a donation and help me make a positive impact in the lives of animals! Thank you!
I also wanted to share with you some of my personal experiences with the ASPCA.  When I was in grade school and one of my very loved cats was ill and we took her to the vet at the ASPCA.  Although they were unable to save her they were great and sensative not just to her but also with us after she passed. 
I took Lucas, my first dog to obediance classes at the ASPCA and later with the help of an instructer from that class I took Lucas through another training course to see if I could train him as a therapy dog to visit hospitals and elder care facilities.  Lucas did well except on the section where he was supposed to walk by food left of the floor.  He ate our instructors breakfast the morning we learned how to do that.  He also once peed on the camera bag of a photographer who came to cover our class but I dont think the photographer noticed. 
You can no doubt see I have some strong connections to the ASPCA.  As it says above I would appreciate any donation you can make but I would add that includes not just monetary donations but those of your time as well.  Go to your local shelter and walk some of the dogs stuck there or foster a cat or dog before they get their forever home.  I think you will be pleasantly supprised at how amazing the people and animals you meet there will be.
Thank you!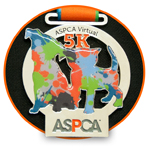 Want to join the ASPCA Virtual 5K? 
Register today to receive your own finisher's medal, race bib, and fundraising page. Get creative and stay active while you make a difference for animals.
Learn More »
---
About the ASPCA: Fighting for animals is a 24/7 job, but your commitment makes it possible for our life-saving programs to create happy endings for those innocent lives touched by cruelty. Every single day of the year, we are rescuing animals from neglect and suffering. With your support, we are able to rescue animals from cruelty, work to end animal homelessness and provide medical care for countless pets in need. Please help us save even more animals and donate to this Team ASPCA campaign today.
Personal campaign progress
Personal Fundraising Goal
$ 300.00
Recent Donors
| Name | Amount |
| --- | --- |
| Anonymous | $25.00 |
Search for a Team ASPCA Campaign
Select any filter and click on Apply to see results
Start Your Own Campaign