I will be participating in the 2020 ASPCA Virtual 5K! I am excited to be participating and honored to be raising awareness and critical funding to support the ASPCA and our nation's vulnerable animals. Your donation will help the ASPCA continue to provide rescue, relief, care and protection for   countless animals nationwide. The ASPCA is very important to me and I appreciate your help as we fight to give abused, neglected and homeless animals a second chance at life. Please donate today and help me make a positive impact in the lives of animals! Thank you!
I rescued my incredible dog, Guinness, from the SPCA in my hometown - Martinsville, VA, and here is our story. My best friend and I woke up on a Saturday morning in Decemeber by a phone call from her mother. She said to Grace Ann, "go over to the SPCA and pick out a dog that we can foster over the holidays". That was all it took for Grace Ann and I to get a pep in our step on a Saturday morning. We drove her car, walked into the shelter, and started our search. It seemed that every dog we asked about was already spoken for. We figured that since it was Christmas time, maybe they were going to be Christmas presents! After a while, we eventually told one of the employee's to just bring us a dog that wasn't already adopted. Out came "Stefano". Stefano (who later becomes Guinness) looks terrified, and we could count his ribs. He was no longer a small puppy, but not quite a year old. Grace Ann and I took him to my mother's house where we fed him and gave him a Christmas sweater to wear. Afterwards, Grace Ann took him home where he spent the next several days. Christmas Eve arrived and Grace Ann called me to inform me that it was time to take Guinness back soon. Apparently, he had been quite the terror at the Edgerton household, haha! She knew I was interested in adopting him, but I had several things to consider before I could make the commitment. I was in the middle of my senior year at JMU living in an apartment with 3 other girls and 1 dog, already. I knew I needed their permission to bring another dog into the apartment and was I really ready for this responsibility?? Grace Ann told me that someone saw Stefano's picture on the internet and called the SPCA with interest. That's what did me in! God knew he belonged with me, I just needed a little push. Grace Ann's mother, Cindy, paid the adoption fee for me and I signed the paperwork, and Stefano became MINE! After lots of thought, I changed his name to Guinness. As life continued, my mother, Vicky, became a huge care-taker for Guinness, and I couldn't appreciate her more! Life sent me down a few different paths after my JMU graduation and without her help, Guinness and I wouldn't be nearly as happy! She is his "Glamma" and lives an amazing life between the two of us. Guinness is my best friend and I am so thankful I decided to rescue and adopt him.
Guinness also has a brother, Lincoln, who was rescued by my mother from the local Martinsville, VA SPCA. Grace Ann and her fiance, Chris, have two rescues, Stella and Murphy. And her mother, Cindy, has a rescue as well. All dogs need a GOOD home and our village supports rescue and adoption.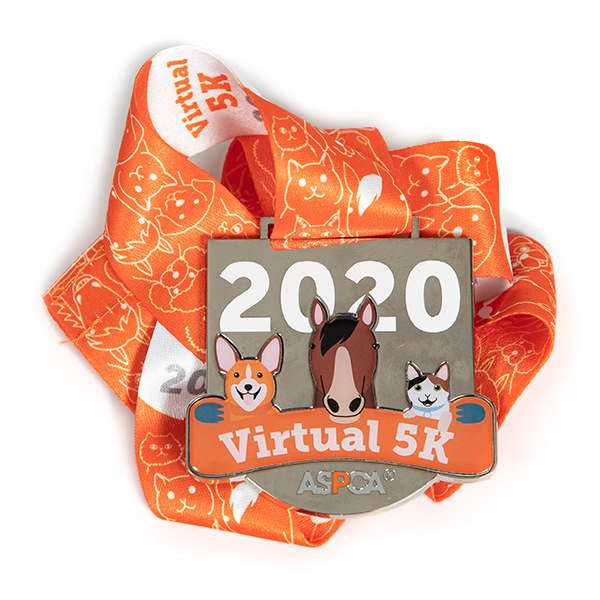 Want to join the 2020 ASPCA Virtual 5K?
Register today to receive your own finisher's medal, race bib and fundraising page. Get creative and stay active while making a difference for animals. Learn More »
---
About the ASPCA: Fighting for animals is a 24/7 job, but your commitment makes it possible for us to continue to rescue, protect and care for those who may be homeless, neglected or are victims of cruelty. Year-round, we are rescuing animals from neglect and suffering, responding to natural disasters and emergencies such as COVID-19, and ensuring that more animals find loving homes nationwide. With your support, we are able to continue this work and be there for those who need us most—whenever they may need us. Please help us save even more animals in need by making a gift through this Team ASPCA campaign today.
Personal campaign progress
Personal Fundraising Goal
$ 50.00
Recent Donors
| Name | Amount |
| --- | --- |
| Grace Ann Edgerton | $40.00 |
Search for a Team ASPCA Campaign
Select any filter and click on Apply to see results
Start Your Own Campaign