On June 30th, my dogs and I will be participating in the inaugural ASPCA Virtual 5K!
Although I often walk over 3 miles with my dogs on a regular basis, I am challenging myself by running this. 
Why?
Because I can.
My birthday is this month and feel like it is a great time to reflect and improve myself. I appreciate that my body still has mobility and why not provide a little challenge? The only time I run is when I am late for my plane and it's not pretty.
The best part is that I get to do it on my own time with my dogs! We have started conditioning ourselves a couple of weeks ago and I think we will be ready to run the whole distance by the 30th. 
I am also honored to be raising the awareness and the needed funding to support the ASPCA's programs. The work we do saves lives and improves animal welfare of dogs, cats, and horses nationwide.
Please support me by making a donation and help me make a positive impact in the lives of animals and my own life!
Thank you!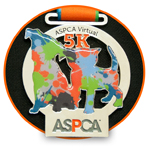 Want to join the ASPCA Virtual 5K? 
Register today to receive your own finisher's medal, race bib, and fundraising page. Get creative and stay active while you make a difference for animals.
Learn More »
---
About the ASPCA: Fighting for animals is a 24/7 job, but your commitment makes it possible for our life-saving programs to create happy endings for those innocent lives touched by cruelty. Every single day of the year, we are rescuing animals from neglect and suffering. With your support, we are able to rescue animals from cruelty, work to end animal homelessness and provide medical care for countless pets in need. Please help us save even more animals and donate to this Team ASPCA campaign today.
Personal campaign progress
Personal Fundraising Goal
$ 500.00
Recent Donors
Search for a Team ASPCA Campaign
Select any filter and click on Apply to see results
Start Your Own Campaign
Campaign Donors:
Jackie Ratcliffe

$ 30.00

06 / 18 / 2017

Proud of you Heather – have a great run! Here's to reaching your goal!

Elli Wiles

$ 50.00

06 / 14 / 2017

Go Girls!!!

Sue Clement

$ 25.00

06 / 14 / 2017

Hey Heather, happy to support your efforts. Have a blast!

Tori Mohan

$ 25.00

06 / 13 / 2017

Good luck :)

Henry & Arnold

$ 50.00

06 / 12 / 2017

Good luck!

Betsy VanLeit

$ 25.00

06 / 11 / 2017

Happy to support such a great cause!

Lori Gibbons

$ 25.00

06 / 11 / 2017

Go Heather!!!!!

Jennifer Merlich

$ 50.00

06 / 11 / 2017

You've so got this!

Jennifer

$ 25.00

06 / 11 / 2017

Good luck! Thanks for helping out a good cause!