This year, to celebrate Cassie's 8th birthday, I will be participating in the 2020 ASPCA Virtual 5K! I am excited to be participating and honored to be raising awareness and critical funding to support the ASPCA and our nation's vulnerable animals.
When I first met Cassie, she was pressed against the fencing at the front of her cage, desperate for human touch and affection. When we met her off leash for the first time, she immediately had zoomies because she was so excited to be loved. Once she calmed down, she leaned the whole weight of her body into my side and I knew I had to take her home. It was a long week while we submitted to a home check and an interview, waiting to see if we would be the family selected as her forever home. And we were. When we were finally reunited, I cried because it felt as though I was whole for the first time in a long time. She is, without a doubt, my soul dog.
She is not my first rescue, but I have learned some sad things. Cassie has "pit bull" features and a dark coat, both of which would have normally condemned her to a very long wait for adoption. She had a docked tail and was terrified of being touched anywhere near her bottom. She had (still has) terrible noise reactivity and a ton of random manic energy that would burst on and off throughout the day. And she has a terrible cough of unknown origin that terrifies strangers into thinking she's growling at them.
Underneath all that, is one of the most gentle, loving, and giving souls. Now that I am working in animal medicine and pursuing a career as a veterinary technician, I see echos of her in so many, many cases that can break your heart. If there was more that I could give, I would give it and gladly in order for these animals to receive the love and care that they deserve.
So walking a 5K to raise money? That's a no brainer. 
Your donation will help the ASPCA continue to provide rescue, relief, care and protection for countless animals nationwide. The ASPCA is very important to me and I appreciate your help as we fight to give abused, neglected and homeless animals a second chance at life. Please donate today and help me make a positive impact in the lives of animals!
Thank you so much. I appreciate you.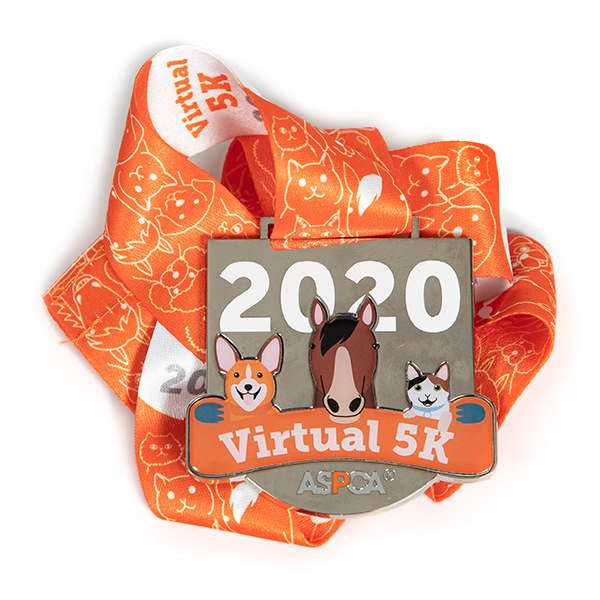 Want to join the 2020 ASPCA Virtual 5K?
Register today to receive your own finisher's medal, race bib and fundraising page. Get creative and stay active while making a difference for animals. Learn More »
---
About the ASPCA: Fighting for animals is a 24/7 job, but your commitment makes it possible for us to continue to rescue, protect and care for those who may be homeless, neglected or are victims of cruelty. Year-round, we are rescuing animals from neglect and suffering, responding to natural disasters and emergencies such as COVID-19, and ensuring that more animals find loving homes nationwide. With your support, we are able to continue this work and be there for those who need us most—whenever they may need us. Please help us save even more animals in need by making a gift through this Team ASPCA campaign today.
Personal campaign progress
Personal Fundraising Goal
$ 88.00
Recent Donors
| Name | Amount |
| --- | --- |
| Adam! | $100.00 |
| Mallory | $25.00 |
| The Jane to your Daria | $22.00 |
Search for a Team ASPCA Campaign
Select any filter and click on Apply to see results
Start Your Own Campaign