Ann & Michelle's Holiday Campaign
The holidays are all about giving. That's why, this season, my friend Michelle and I are launching this fundraising page to help make a difference for animals in need. Any donation you can give, regardless of how big or small is greatly appreciated! Being proud owners of rescue animals ourselves, this campaign is incredibly important to us. I adopted my cat Draco from Last Chance Animal Rescue in 2010. He was just a few months old when he was rescued along with his brothers and sisters from an abandoned building in Waldorf, Maryland, and for three months was transferred to different shelters and Petsmart stores in hopes of finding him a forever home. He was six months old when I saw him at a Petsmart in Woodbridge, Virginia and it was love at first sight. Some of Draco's favorite things (apart from food and naps) are treats, cat tunnels, Christmas trees, backpacks/luggage and cuddling. Michelle adopted her first rescue animal from a shelter in Alaska in 2005 - an affectionate and lively husky puppy named Sasha. Upon arriving in Virginia a few years later she adopted her second - a quiet but sweet cat named Persnickety in 2008. Both pets are wonderful companions to her, her husband and their three children. Your donations will help the ASPCA provide life-saving programs and services to millions of animals nationwide. The ASPCA is very important to us and we appreciate your help as we fight to give abused and homeless animals a second chance at life. In lieu of holiday gifts, please support us by making a donation directly to this fundraising page, and help us make a positive impact in the lives of animals! Thank you so much, and Happy Holidays! Sincerely, Ann Hills & Michelle McLean (and Draco, Sasha & Persnickety).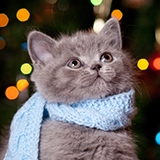 Is the Holiday Spirit calling you to take action for homeless pets and animals in need? You can create your own Holiday Campaign here.
---
 
About the ASPCA: Fighting for animals is a 24/7 job, but your commitment makes it possible for our life-saving programs to create happy endings for those innocent lives touched by cruelty. Every single day of the year, we are rescuing animals from neglect and suffering. With your support, we are able to rescue animals from cruelty, work to end animal homelessness and provide medical care for countless pets in need. Please help us save even more animals and donate to this Team ASPCA campaign today.
Personal campaign progress
Personal Fundraising Goal
$ 1,000.00
Suggested Donation
$25.00
Recent Donors
Search for a Team ASPCA Campaign
Select any filter and click on Apply to see results
Start Your Own Campaign