Training Day 3
Thanks to very generous donations, we met our 2nd goal and raised it again!
Venkman's first training video is now up, too. She ran 1.3 miles today!
https://twitter.com/TheGoldenRatio4/status/872171289171156992
Training Day 1
Venk's got her Rocky-look going with the hoodie.
https://twitter.com/TheGoldenRatio4/status/870997083473551360
Update 6/3 Midnight
Wow you guys! We hit our $100 goal on the first day! Venk had better start stretching.
We're upping our goal to see what more we can do for the ASPCA this month. It's midnight as I write this, but expect a Venkman training update in the morning.
Thanks to everyone who donated!
Original
Mom and Dad run marathons, but Venkman is a couch potato. This month, she's training for her first 5K to raise money for the ASPCA. Donate to help her meet her goal, and follow her training at http://twitter.com/thegoldenratio4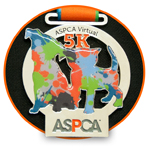 Want to join the ASPCA Virtual 5K? 
Register today to receive your own finisher's medal, race bib, and fundraising page. Get creative and stay active while you make a difference for animals.
Learn More »
---
About the ASPCA: Fighting for animals is a 24/7 job, but your commitment makes it possible for our life-saving programs to create happy endings for those innocent lives touched by cruelty. Every single day of the year, we are rescuing animals from neglect and suffering. With your support, we are able to rescue animals from cruelty, work to end animal homelessness and provide medical care for countless pets in need. Please help us save even more animals and donate to this Team ASPCA campaign today.
Personal campaign progress
Personal Fundraising Goal
$ 1,000.00
Recent Donors
Search for a Team ASPCA Campaign
Select any filter and click on Apply to see results
Start Your Own Campaign
Campaign Donors:
@zoeybrunoandoliver and @mrounick

$ 25.00

06 / 30 / 2017

Congrats, Venk!

just judy

$ 75.00

06 / 30 / 2017

Venkman I am so proud of you. A glorious run!

Loren Gomez

$ 15.00

06 / 21 / 2017

Happy Birthday Venkman! Good luck on your 5k and thank you for helping the ASPCA

Anonymous

$ 5.00

06 / 21 / 2017

Happy birthday, Venkman!

Helen

$ 25.00

06 / 6 / 2017

Such a good cause...such lovely paws ----

@Teresatini

$ 100.00

06 / 4 / 2017

Just keep putting one paw in front of the other Venk, you got this!

Anonymous

$ 5.00

06 / 3 / 2017

Yay Venkman!! You're going to do great!

Connie @GoldenCody

$ 20.00

06 / 2 / 2017

Love you, Venkman! From GoldenCody on twitter.

Nick N

$ 15.00

06 / 2 / 2017

You can do it Venk! Cue the training montage music!

Ellen W.

$ 40.00

06 / 2 / 2017

Good luck!

Sarah Weinstein, Venk Fan Club Prez

$ 10.00

06 / 2 / 2017

Go Venkman go!

Jasmine, Maggie, & Hopper

$ 5.00

06 / 2 / 2017

GO VENKMAN!