Dear Friends,
On this Sunday,  I will be running in the ASPCA 5K!
It's not too late to help! 
Your donation will help the ASPCA provide life-saving programs and services to millions of animals nationwide. The ASPCA is very important to me and I appreciate your help as we fight to give abused and homeless animals a second chance at life.
Please support me by making a donation and help me make a positive impact in the lives of animals!
Thank you!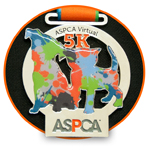 Want to join the ASPCA Virtual 5K? 
Register today to receive your own finisher's medal, race bib, and fundraising page. Get creative and stay active while you make a difference for animals.
Learn More »
---
About the ASPCA: Fighting for animals is a 24/7 job, but your commitment makes it possible for our life-saving programs to create happy endings for those innocent lives touched by cruelty. Every single day of the year, we are rescuing animals from neglect and suffering. With your support, we are able to rescue animals from cruelty, work to end animal homelessness and provide medical care for countless pets in need. Please help us save even more animals and donate to this Team ASPCA campaign today.
Personal campaign progress
$ 1,345.00 raised to date
Personal Fundraising Goal
$ 1,000.00
Recent Donors
Search for a Team ASPCA Campaign
Select any filter and click on Apply to see results
Start Your Own Campaign
Campaign Donors:
Chip/Ken

$ 25.00

06 / 20 / 2017

Dawgs!!!!

M. Miraballes

$ 50.00

06 / 15 / 2017

Way to go Lisa!! You are the best. Great cause.

Tilty

$ 25.00

06 / 13 / 2017

I am so proud of you my dear sweet Fred! I know Bailey, Brodie, Al-Pal and all of our other pups in heaven are cheering you on right along side our new furry friends! much love to you <3

Mike O'Leary

$ 25.00

06 / 12 / 2017

Good luck Lisa!

Jamie Tyndall

$ 50.00

06 / 7 / 2017

GO Lisa!!

Michele Johnson

$ 50.00

06 / 7 / 2017

Best of luck and I'm so glad to help!!

Barry Monies

$ 254.00

06 / 7 / 2017

Like you, if we all get involved with a cause we believe in (even in the smallest way) we can make real differences in the world! Congratulations and thank you for your commitment to the lifesaving programs and services the ASPCA offers. I am happy to support your efforts.

Sherri O'Connor

$ 100.00

05 / 22 / 2017

Great cause Lisa!! Sherri and Sue

J Burnett

$ 50.00

05 / 21 / 2017

Go Lisa!

Gwen Waldron

$ 100.00

05 / 21 / 2017

Thank you for running for the pups!