You're eyes aren't deceiving you, I, Letal Zidkony, have signed up to run (yep, run!) as part of the ASPCA's Virtual 5K this coming June! I've accepted the challenge of dusting off my unused running shoes, and training to run for a cause that is very close to my heart.
I will be running for animals who are mistreated and neglected, and deserve a chance at a wonderful life.
Some of you may know, that my sweet Dutch was rescued by the ASPCA, after being neglected by his prior owner, to the point of losing his front leg. We were told that he was already wagging his tail on the operating table, because he must have known that he was in the best possible hands, and had a much brighter future ahead. 
Last year, the ASPCA impacted over 100,000 animals nationwide, thanks to its generous, and dedicated supporters. 
While Dutch won't be participating in this exciting dash, as he would much rather chill at home, this one is for him, and his furry friends.  
Thank you for considering to sponsor me, so we can help make a life saving difference for many animals nationwide.
Letal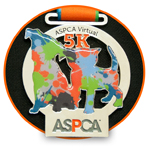 Want to join the ASPCA Virtual 5K? 
Register today to receive your own finisher's medal, race bib, and fundraising page. Get creative and stay active while you make a difference for animals.
Learn More »
---
About the ASPCA: Fighting for animals is a 24/7 job, but your commitment makes it possible for our life-saving programs to create happy endings for those innocent lives touched by cruelty. Every single day of the year, we are rescuing animals from neglect and suffering. With your support, we are able to rescue animals from cruelty, work to end animal homelessness and provide medical care for countless pets in need. Please help us save even more animals and donate to this Team ASPCA campaign today.
Personal campaign progress
$ 1,350.00 raised to date
Personal Fundraising Goal
$ 1,000.00
Recent Donors
Search for a Team ASPCA Campaign
Select any filter and click on Apply to see results
Start Your Own Campaign