Kylie & Sanford's First 5K
This June, I will be participating in the inaugural ASPCA Virtual 5K! I am excited to be participating with my adopted dog, Sanford, and honored to be raising awareness and much needed funds to support the ASPCA's life-saving programs. Your donation will help the ASPCA impact millions of animals in need nationwide.
Sanford is a one-year-old pit-mix who we adopted in December 2016. Our first adopted dog Blanche is seven, and mostly napping these days, so Sanford has gotten me moving again. We are two incredibly uncoordinated runners, who may be in a bit over our heads, but we're determined to have fun and help out more animals like Sanford along the way.
I've been with the ASPCA for almost six years, and I'm excited to run not only as an employee, but as a true ASPCA fan. Please support by making a donation, and help me and Sanford make a positive impact on animals lives across the country! Thank you!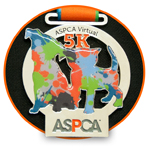 Want to join the ASPCA Virtual 5K? 
Register today to receive your own finisher's medal, race bib, and fundraising page. Get creative and stay active while you make a difference for animals.
Learn More »
---
About the ASPCA: Fighting for animals is a 24/7 job, but your commitment makes it possible for our life-saving programs to create happy endings for those innocent lives touched by cruelty. Every single day of the year, we are rescuing animals from neglect and suffering. With your support, we are able to rescue animals from cruelty, work to end animal homelessness and provide medical care for countless pets in need. Please help us save even more animals and donate to this Team ASPCA campaign today.
Personal campaign progress
$ 1,200.00 raised to date
Personal Fundraising Goal
$ 1,000.00
Recent Donors
Search for a Team ASPCA Campaign
Select any filter and click on Apply to see results
Start Your Own Campaign
Campaign Donors:
Alison, DJ and Adeline

$ 100.00

05 / 10 / 2017

Good luck! You better run the WHOLE TIME. xo

Brendan

$ 25.00

05 / 7 / 2017

Woof!

Bonnie

$ 25.00

05 / 1 / 2017

Good luck!

Pam Walker

$ 40.00

04 / 30 / 2017

Good luck, Kylie & Sanford! xo

Sarah, Frankie, and Charlotte

$ 25.00

04 / 13 / 2017

Good luck! We're cheering you on from New Hampshire!

Mary-Elizabeth Walker

$ 25.00

04 / 13 / 2017

Fantastic work!

Anonymous

$ 100.00

04 / 13 / 2017

I LOVE YOU SANFORD!!!!

Letal

$ 25.00

03 / 31 / 2017

Go Sanford!!! And Kylie too...

Anonymous

$ 100.00

03 / 28 / 2017

Go Kylie and Sanford!!!

Petunia Tendler-Mulaney

$ 150.00

03 / 28 / 2017

Sanford, I hope you run better than I walk at Elysian. We've only met once but you are my friend.