Charley's Road to Recovery
Charley's distance so far: 7 miles
UPDATE, August 22: Charley had his first physical therapy session and did great. He even got to use the underwater treadmill for the first time! See video at the bottom of this page.
UPDATE, August 24: Thank you all so much for your generosity! We just passed our initial goal of $500. We want to keep it going, so we've raised the goal to $750. And just a reminder that no money comes to us. All funds go to the ASPCA to rescue homeless and abused animals, and they thank you all for your lifesaving help.
UPDATE, August 27: Charley has officially crossed the 5K mark! He has walked 3.1 miles since his surgery, and is getting stronger every day. His recovery will keep going, though, so let's keep the fundraising going too!
UPDATE, August 29: We can't thank you all enough for your contributions. Charley and this fundraising campaign for ASPCA are both still going strong. We've now passed the $750 mark, and I've raised the goal to $1,000. I've also added a photo of Charley wearing protective goggles for his laser treatment at rehab. Check it out above!
On August 1, our beloved sheltie Charley was hit by a car. He was struggling to breathe, had a badly injured leg, and was bleeding from his nose, mouth, and had various cuts and scrapes. After a harrowing 20-minute race to the emergency hospital, the doctors rushed him into the ER, hooked him up to monitors, put him in an oxygen cage, and started him on several IV drugs. When they came to talk to us, we learned that he had two collapsed lungs, severe pulmonary contusions, air leaking from his lungs into his chest cavity, and a shattered hip. His oxygen saturation and blood pressure were both dangerously low, his pulse and repiratory rate were too high, and they had to tap his chest twice to remove 250ml of air that was preventing his lungs from inflating properly. He was on a fentanyl drip for pain and dopamine to try to boost his blood pressure. They told us that they couldn't give us a prognosis until 6 to 12 hours had passed because when a dog has such severe lung trauma, the contusions and cuts in the tissue can cause the lung function to get worse before it gets better, and Charley couldn't survive getting any worse.
That first night was awful as we kept vigil in the waiting area and hoped for good news. The worst part was knowing that he was right there in the same building but we couldn't be with him, and we were so powerless to do anything to help. All we could do was think positive, send him strong thoughts, and remember that he has always been the toughest little dog, roughhousing with a brother twice his size and playing chase with all the big dogs at the dog park. And, trying to get some positive energy on our side, we promised that night that if Charley made it through this ordeal, we would do something to help other dogs in need.
Well, Charley once again proved to be the toughest little dog, and he did make it through that night. He got a little bit stronger every day after that, and almost a week later, he was strong enough to have surgery on his leg. His hip socket on his pelvis was shattered, and the damage was too bad for them to repair or even for them to do a hip replacement. Instead, they performed a Femoral Head and Neck Ostectomy, which means they cut off the ball at the head of the femur that formed the other part of his hip joint. In its place, his body will grow fibrous scar tissue, which will create a false joint where his hip was. His leg will never be the same as it was, but with aggressive physical therapy and exercise, he will be able to regain much of the use of his hip, and should be able to run and play and live a normal, active life.
We were finally able to bring Charley home on August 8, a week after the accident and a day after his surgery. Over the next several months, we'll be focusing on his rehabilitation, taking him to physical therapy three times a week and working with him at home to build strength and regain mobility in his leg. To help track his progress and to fulfill our promise to help other dogs, we've registered for this virtual 5K. We will track how much Charley walks as he gets stronger and stronger, and soon, a little at a time, he will walk his first 5K (and much more!) after his injury. We are so thankful to have him back with us, and for all the great medical care he received at AERA in Fairfield, NJ (special thanks to the ER staff and to the surgeon, Dr. Chris Hunt), and we want to use this as an opportunity to pay it forward. Your donation to Charley's campaign will help the ASPCA provide life-saving programs and services to millions of animals nationwide, and to give abused and homeless animals a second chance at life. We thank you all so much in advance for your generosity.
Jay Goodwin, Lisa Vettoso, Charley, and Foster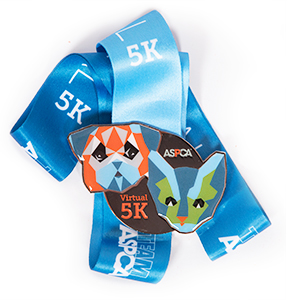 Want to join the ASPCA Virtual 5K?
Register today to receive your own finisher's medal, race bib, and fundraising page. Get creative and stay active while you make a difference for animals. Learn More »
---
About the ASPCA: Fighting for animals is a 24/7 job, but your commitment makes it possible for our life-saving programs to create happy endings for those innocent lives touched by cruelty. Every single day of the year, we are rescuing animals from neglect and suffering. With your support, we are able to rescue animals from cruelty, work to end animal homelessness and provide medical care for countless pets in need. Please help us save even more animals and donate to this Team ASPCA campaign today.
Personal campaign progress
$ 1,070.00 raised to date
Personal Fundraising Goal
$ 1,000.00
Recent Donors
Search for a Team ASPCA Campaign
Select any filter and click on Apply to see results
Start Your Own Campaign