Dear Family and Friends,
I hope you are feeling blessed. I come to you asking for your help while I challenge myself; My first 5K walk/run directly and purposely to raise funds for THE ASPCA. I am excited to be participating and honored to be raising awareness and funding support for the ASPCA programs. Your contribution, as little as $2 or more (I know times are tough), will help the ASPCA provide life-saving programs and services to millions of animals nationwide.  
Further, the ASPCA is extremely important to me, and I appreciate your help as we fight to give abused and homeless animals a second chance at life and ultimately rescued and adopted to live in "forever homes". Let's agree that we initiate them to serve in so many ways, such as Therapy, Emotional Support (which they also need), Activities Assistant and Rescue Animals. They deserve the reciprocal love and dedication they provide.  
Lastly, I, personally, am seeking the criminal credentials, as well, to investigate and rescue those animals that are being abused or living in inadequate living conditions by any organization or individual(s).  One hundred percent of your donation will go to the ASPCA, and your donation is tax-deductible to the extent allowed under applicable law. Please help me to make a positive impact in the lives of animals. Thank you in advance.
Warmly,
Amy M. Lipson
5K for the ASPCA
Dedicated Animal Advocate
and Compassionate Pet Care Provider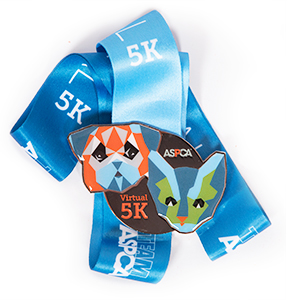 Want to join the ASPCA Virtual 5K?
Register today to receive your own finisher's medal, race bib, and fundraising page. Get creative and stay active while you make a difference for animals. Learn More »
---
About the ASPCA: Fighting for animals is a 24/7 job, but your commitment makes it possible for our life-saving programs to create happy endings for those innocent lives touched by cruelty. Every single day of the year, we are rescuing animals from neglect and suffering. With your support, we are able to rescue animals from cruelty, work to end animal homelessness and provide medical care for countless pets in need. Please help us save even more animals and donate to this Team ASPCA campaign today.
Personal campaign progress
Personal Fundraising Goal
$ 500.00
Recent Donors
| Name | Amount |
| --- | --- |
| Go Amy Go ! | $5.00 |
| Anonymous | $25.00 |
| Michael Dansky | $50.00 |
| Anonymous | $10.00 |
Search for a Team ASPCA Campaign
Select any filter and click on Apply to see results
Start Your Own Campaign