$3 For Ashley's Holiday Campaign To The ASPCA !!!

Hey guy's! I'm raising money that will be going to the ASPCA! Hopefully I raise enough that will get the pets ( Cats and Dog's) Some new toys, A new bed, New leashes, Food, And etc. I myself have adopted 3 dogs from the ASPCA. One is a male boxer named Tyson he is 4, One female a 10 month old lab/boxer mixed, And a 5 year old female that is boxer/ terrior mixed. They gave me these 3 beautiful dogs so I want to give back to them! Anything will help! Thank you so much!!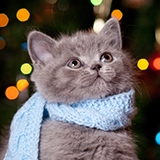 Is the Holiday Spirit calling you to take action for homeless pets and animals in need? You can create your own Holiday Campaign here.
---
 
About the ASPCA: Fighting for animals is a 24/7 job, but your commitment makes it possible for our life-saving programs to create happy endings for those innocent lives touched by cruelty. Every single day of the year, we are rescuing animals from neglect and suffering. With your support, we are able to rescue animals from cruelty, work to end animal homelessness and provide medical care for countless pets in need. Please help us save even more animals and donate to this Team ASPCA campaign today.
Personal campaign progress
Personal Fundraising Goal
$ 200.00
Suggested Donation
$25.00
Search for a Team ASPCA Campaign
Select any filter and click on Apply to see results
Start Your Own Campaign