2019 ASPCA Virtual 5K
The 2019 ASPCA Virtual 5K has ended! Thank you for your continued interest and support. Check us out for our next virtual race in 2020. All race packets and fundraising prizes are being mailed out via USPS. Please allow 20-30 business days for delivery unless you selected priority shipping.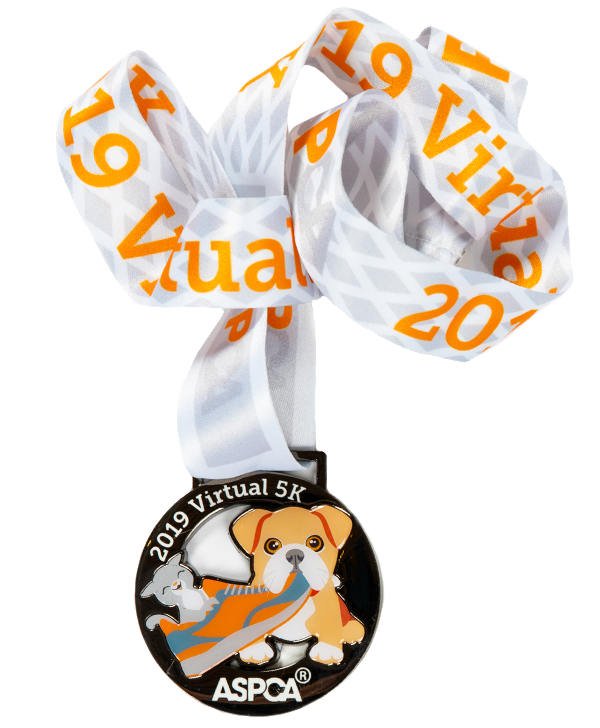 Register for the 2019 ASPCA Virtual 5K and receive your exclusive medal along with race bib! This will be our only virtual race in 2019 so don't miss out.
The 2019 ASPCA Virtual 5K allows you to customize your fundraising experience and race at your own pace, in your own time. There is no set location or specific time/date for the Virtual 5K, this ensures that team members from all across the country can participate from wherever they're located!
Once you're registered, all that's left to do is complete your 5K (3.1 miles) between August 9-23. It's that easy! You can walk, run, swim, cycle or use any other method or terrain you prefer—you can even include your four-legged family members! If you choose to include your pet, be sure to add the option to receive a medal and bandana for them as well. The ASPCA Virtual 5K gives you the opportunity to get creative and stay active while making a difference for animals.
Don't forget to share your accomplishment on social media. Make sure to use #ASPCAVirtual5K on all your posts. We can't wait to see you all with your race medals! Submit your photos here and you might see yourself in our emails or website.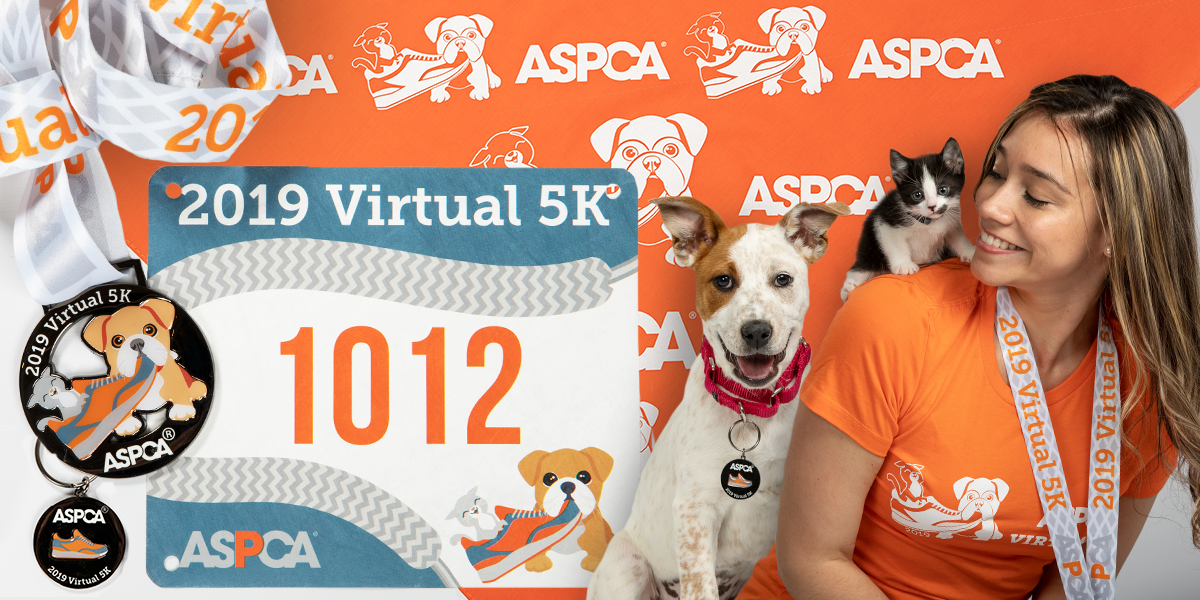 Frequently Asked Questions
When will I receive my race medal and bib?
2019 ASPCA Virtual 5K race packets can be expected within 20-25 business days of registering via First Class Mail (regular mail USPS). Those that select to add on Priority Mail (USPS tracked mail) at an additional fee with their registration can expect their race packet within 5-15 business days.
Where does the ASPCA Virtual 5K take place?
There is no set location or specific time/date for the Virtual 5K, this ensures that team members from all across the country can participate from wherever they're located! You can complete the 5K (3.1 miles) in one day or over multiple days or weeks. We do not require proof of completion in order for you to receive your medal, so it's totally up to you!
Do I need to fundraise after I pay the registration fee?
Fundraising is not required for the ASPCA Virtual 5K, however, you will receive a fundraising page, and we encourage you to raise funds for the animals! We hope you take advantage of this opportunity to make a difference in the lives of homeless, abused and neglected animals nationwide. When you fundraise for the ASPCA not only are you raising crucial funds to support our life-saving programs and initiatives, but you are also spreading awareness of the ASPCA's mission to provide effective means for the prevention of cruelty to animals throughout the United States. There is no fundraising minimum—a gift in any amount is much appreciated and goes a long way in helping our animal friends.
What if I am unable to complete the 5K after I've signed up?
That's okay! We do not require proof of completion in order to receive your medal. We will send your medal, bib and any earned fundraising prizes regardless if you complete the 5K or not.
Where do donations made through my online fundraising page go?
Online donations made through your fundraising page go directly to the ASPCA. The donation amount will be shown on your page, and 100% of the contributions will be attributed towards your fundraising goal.
Still have questions? Please contact a Team ASPCA staff member at (888) 661-2772 or via email at teamaspca@aspca.org.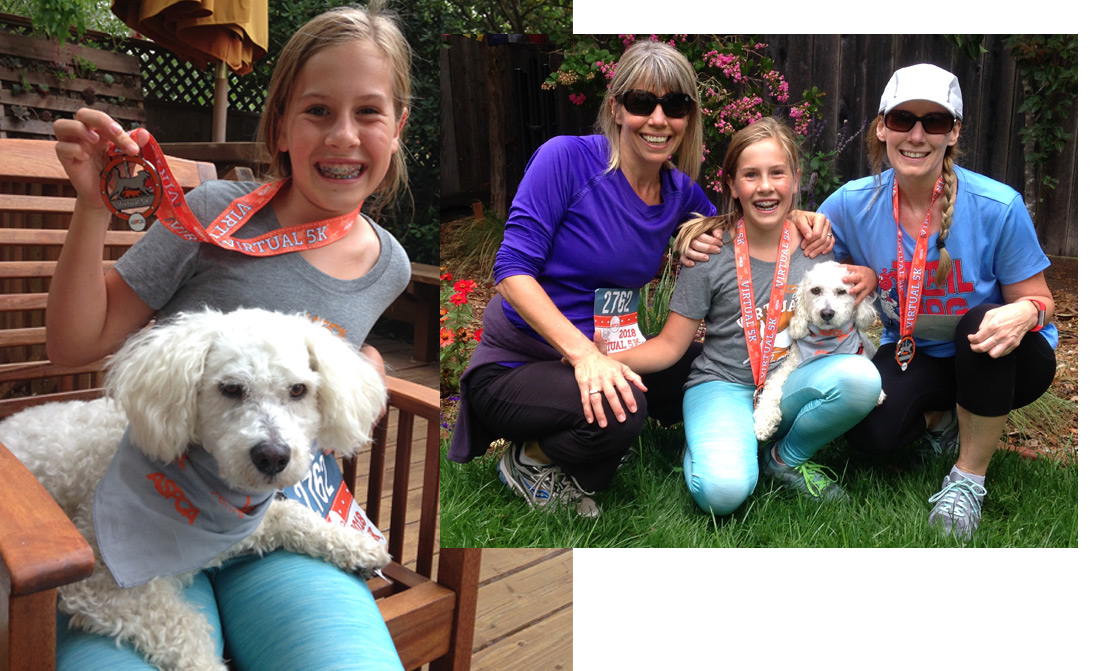 Mary R.  
  2018 Virtual 5K  
"Otto is a rescue dog and has brought such joy to our lives! He is a rascal at times, but still love him. He has support from other dogs along the run with hearty barks cheering him on."

---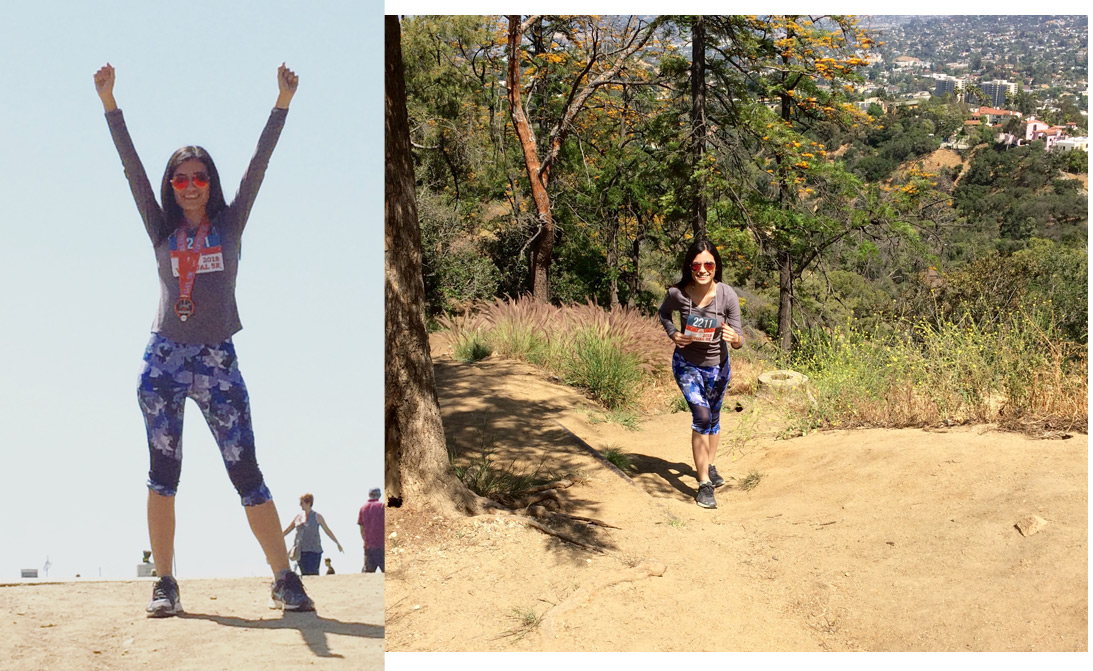 Maria E.  
  2018 Virtual 5K  
"I am a veterinary student at Tuskegee University and I'm happy to support ASPCA and abused animals by running in the ASPCA Virtual 5K."

---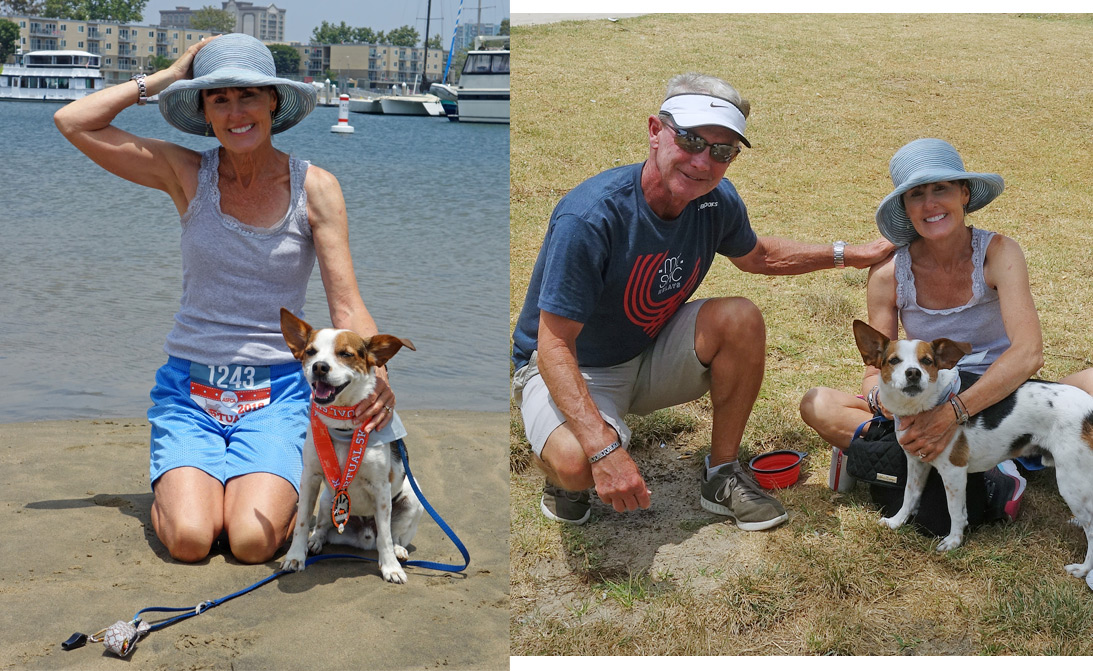 Donna S.  
  2018 Virtual 5K  
"We took Benson, our 8-year-old rescue Beagle mix, for a 3 1/2 mile walk along the Venice, Ca canals with a rest on the Venice boardwalk"

---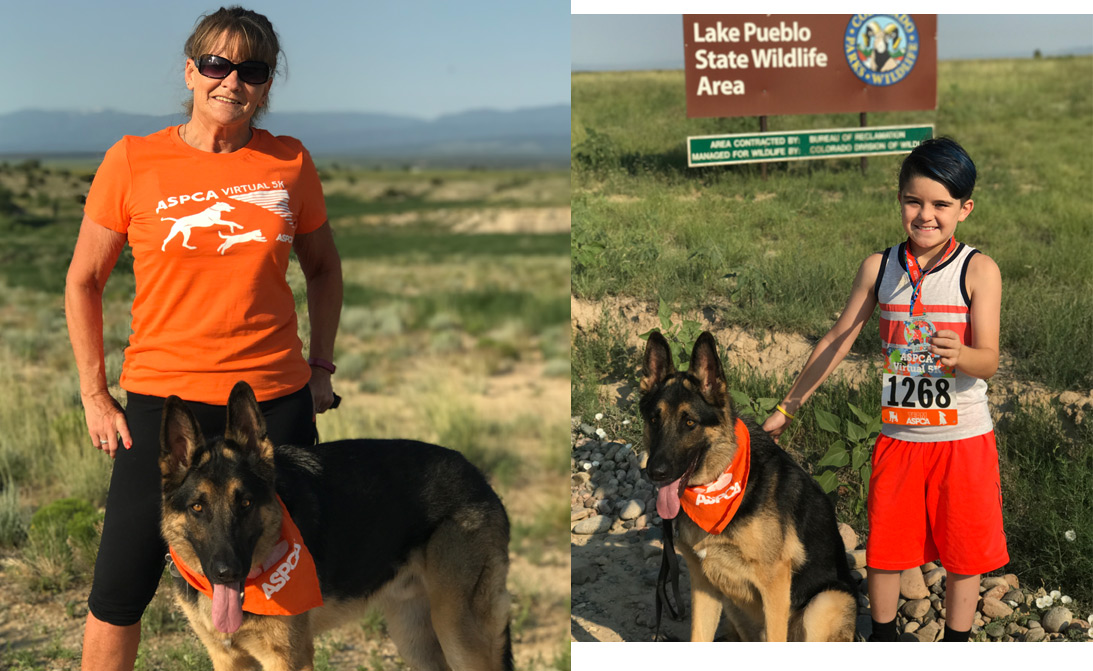 Shawnee K.  
  Spring 2017 Virtual 5K  
"Jax just turned two this June and we celebrated together doing this virtual 5K!"

---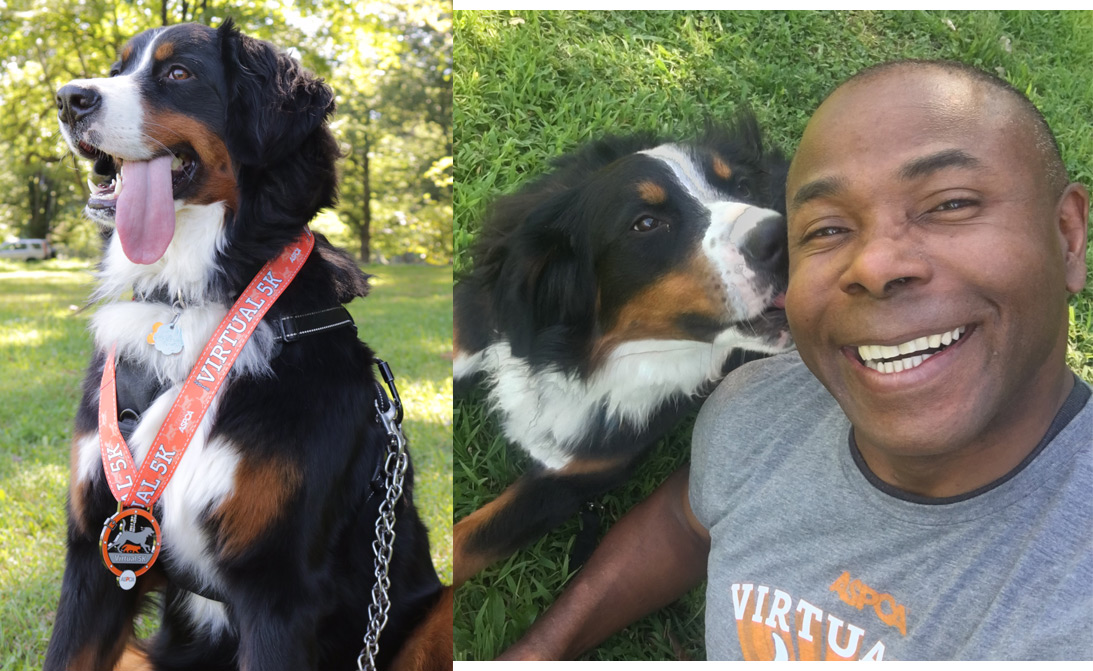 Russell B.  
  2018 Virtual 5K  
"My family and I love animals and I ran/walked this race in memory of our baby girl Honey (an English beautiful yellow Lab ) that we sadly lost in October. She's with us always and we miss her so much. In December Teddy found us and adopted us so in Honey's name here we are."

---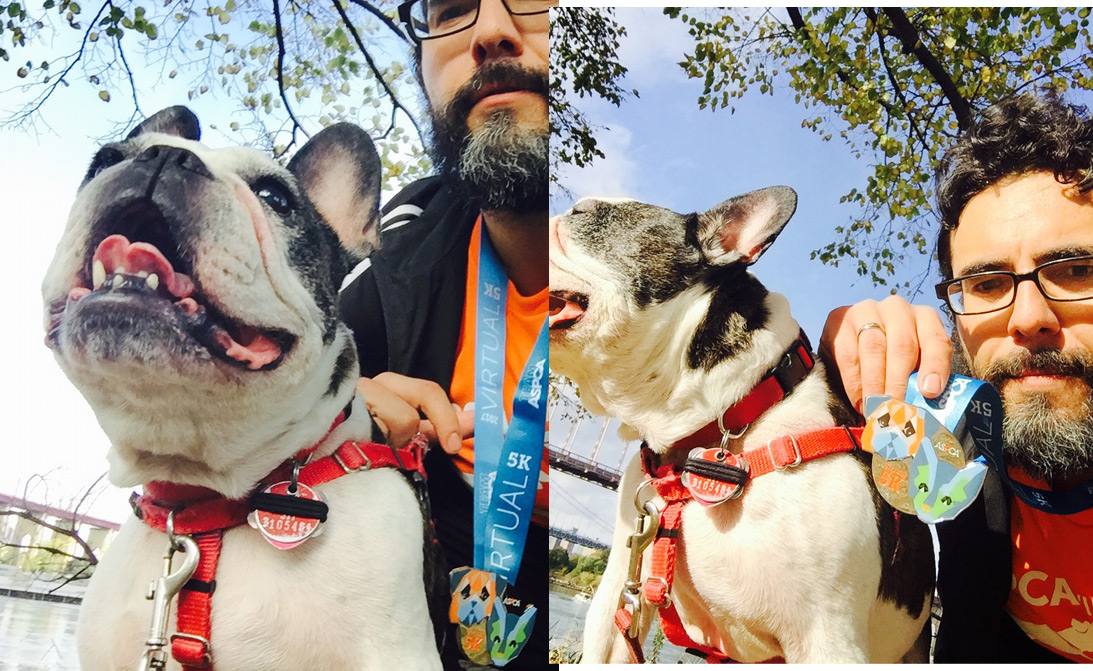 Jorge R.  
  Fall 2017 Virtual 5K  
"Team Hip Hip Jorge! Griffen came to us as a senior dog from the French Bulldog Rescue Network and this is just our small way to give something back to help other shelter animals in need! We had a great time doing it!"

---
Fundraising Level Prizes
Raise $40


2019 ASPCA Virtual 5K T-Shirt

Raise $75


ASPCA Sunglasses

Raise $100


ASPCA Tote Bag

Raise $150


ASPCA Water Bottle

Raise $250


ASPCA Running Waist Pouch

Raise $350


ASPCA Visor + Earbuds

Raise $500


ASPCA Fleece Blanket

Raise $1,000


ASPCA Backpack

Top 3 Fundraisers


ASPCA Duffel Bag

Top Fundraiser


Prize Pack
Fundraising prizes deadline is August 23, 2019.