150th Anniversary Campaign

Celebrating 150 Years of helping animals in need!
Can you believe that April 10, 2016, marks the 150th Anniversary of the ASPCA? It's an incredible milestone, and over the years we have rescued, sheltered, and protected countless vulnerable animals.

Of course, none of it would be possible without the generous support of people like you! Now, you can help us kick off the next 150 life-saving years by putting your talents to work to fundraise for the ASPCA.

CREATE MY 150TH ANNIVERSARY PAGE

From virtual fundraisers promoted online to hosting a 150th Anniversary Celebration and everything in between, you can help the ASPCA continue our mission and spread awareness about the prevention of cruelty to animals. Every dollar you raise furthers the ASPCA's groundbreaking work and helps build a more humane country for animals in need. Plus, when you raise $150, we'll send you a limited edition 150th Anniversary ASPCA Pride Pack as our way of saying thanks!

Your limited edition Pride Pack includes an ASPCA bracelet, a limited edition ASPCA 150th Anniversary button and an ASPCA key chain… all packed in a great ASPCA zipper pouch!
 

CREATE MY 150TH ANNIVERSARY PAGE

Frequently Asked Questions

What is in the Online Toolkit?
The free Team ASPCA Online Toolkit includes customizable signs and flyers for promoting your 150th Campaign. It also contains party printables like straw flags, donation jar labels, and paw print decorations! We also provide you with banners to use to promote your event on social medias – like Facebook cover photos and Instagram images. Whether you are hosting an event or having a virtual fundraiser, we've got your ASPCA materials ready!

Why should I fundraise with a 150th Anniversary Campaign?
The ASPCA is celebrating 150 years of helping animals in need, but there is more work to do! We hope you take advantage of this opportunity to make a difference in the lives of homeless, abused and injured animals. When you fundraise for the ASPCA, not only are you raising crucial funds to support our life-saving programs and initiatives, but you are also spreading awareness of the ASPCA's mission to provide effective means for the prevention of cruelty to animals throughout the United States. And there is no fundraising minimum—a gift in any amount is much appreciated and goes a long way in helping our animal friends.

What kind of 150th Anniversary Campaign can I host?
We suggest picking a fundraiser activity that you find fun and that you can get others excited about. The sky is the limit in the ways that you can work with your family, friends and community to raise funds to help make this world a better place for our animal friends. Some ideas:
- Hold a bake sale, craft sale, lemonade stand or pie eating contest.
- Organize a gala, wine tasting, bingo night or concert for the ASPCA.
- Organize a neighborhood dog walk or pet parade.
- Offer services to your neighbors for a donation - wash cars, babysit, mow lawns, shovel snow or pet-sit.

Do I have to host a fundraiser event to have a 150th Anniversary campaign?
No, using social media, you can have a virtual, on-going fundraiser. The easiest way is to spread the word about your 150th Anniversary campaign is to send an email to close friends and family and post about your fundraising page to socials like Facebook, Twitter, and Instagram. Make sure to include the URL to your 150th Anniversary Campaign page. By having an online fundraiser, you can extend your donor network all across the country or even the world! The opportunities to help injured and abused animals are endless.

If I am hosting an 150th Anniversary event, what is the best way to collect donations?
If you are hosting an event with a suggested donation to attend, the easiest way to collect these donations is through credit card, checking account or PayPal payments on your online fundraising page!

Do I have to register/login first to start creating my 150th Anniversary campaign page and access the Online Toolkit?
Yes, you must register in order to create your fundraising page and download the Online Toolkit.

Is there a minimum age requirement for registering a Team ASPCA campaign page?
Yes, you must be at least the age of majority in the state where you reside. In most states, the age of majority is 18 years old, however, in a few states, such as Nebraska, Alabama and Mississippi, the age of majority is older than 18 years old. Creating a page requires registering your name and contact information with the ASPCA. If you are under the applicable age of majority, please ask your parent or guardian to register on your behalf.

Where do donations made through my online 150th Anniversary Campaign page go?
Online donations made on your 150th Anniversary Campaign page go directly to the ASPCA. The donation amount will be shown on your page and 100% of the contributions will be attributed towards your fundraising goal.

Are the donations tax-deductible?
Donations made to the ASPCA are 100% tax-deductible to the extent allowed by law.

Still have questions? Please contact a Team ASPCA staff member at (646) 706-4754 or via email at aspcaambassador@aspca.org.


When you join Team ASPCA you'll receive a free toolkit to host fundraiser events to help you meet your goal!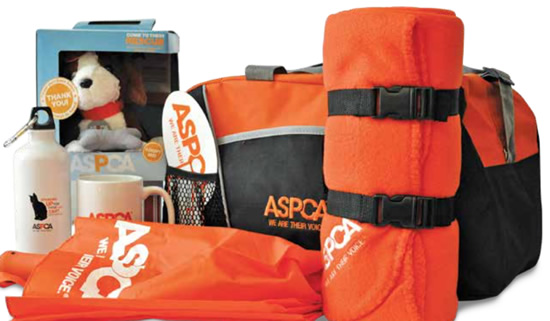 The top 3 fundraisers will receive special prizes* including an ASPCA duffel bag, blanket, plush toy, flashlight, mug, umbrella, and more!
*by June 1st @ 11:59pm EST