Yakima, City Council Repeals Pit Bull Ban!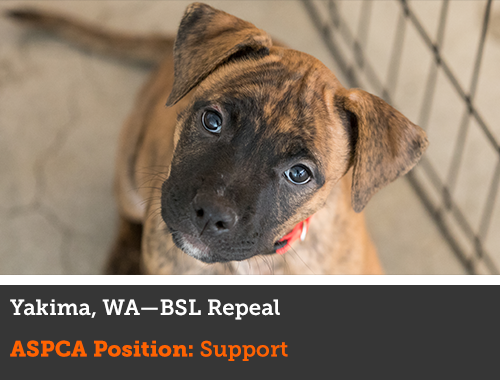 Update—August 22, 2018: Exciting news! The Yakima City Council has voted to repeal a decades-old ban on the ownership of pit bulls. This is yet another huge win in our effort to keep pets and people together, and a victory against discriminatory breed-specific legislation. Thank you to everyone who raised their voice for this important issue.

Since 1988, a city ordinance has banned Yakima residents from owning pit bulls or pit bull-mixes. This decades-old discriminatory policy has unjustly kept these dogs from joining loving homes, with no regard for the individual behavior of each dog. 
This ban means that anyone who owns a pit bull and wants to move to Yakima cannot do so with their dog, and it even puts at risk those merely traveling through the city with their dog. It also automatically condemns to death any pit bull-type dog entering the shelter system. This ban in no way keeps pets and people together or promotes a healthy human-animal bond.
Historically, such breed-specific legislation ("BSL") has been proven highly ineffective and costly to enforce. Following a thorough study of human fatalities resulting from dog bites, the Centers for Disease Control and Prevention (CDC) declared its strong opposition to BSL, citing the difficulty in identifying dog breeds and the inaccuracy of dog bite data.
Yakima city records show that pit bulls account for a small fraction of all dog complaints received. From 2015 through 2017, of the nearly 3,354 dog-related complaints received, only 210 involved pit bulls. Adjacent communities without such bans have not experienced higher numbers of reported incidents.