West Virginia, Gov. Justice Signs Bill to Save Lives and Tax Dollars!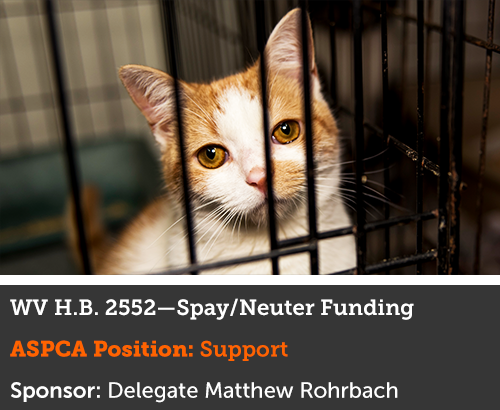 Update—May 2, 2017: Great news, advocates! We are pleased to report that Governor Justice signed the spay/neuter funding bill (H.B. 2552) into law. Thank you to all of you who made your voices heard on behalf of this critical measure.
Too many homeless animals are euthanized in West Virginia each year, but it doesn't have to be this way: Providing low-cost spay/neuter surgeries to pets of low-income residents and to those who otherwise cannot afford them is proven to reduce shelter overpopulation and euthanasia rates.
House Bill 2552 will establish a small fee on pet food companies in order to provide critical funding for a state-run spay/neuter program.
States that have implemented comprehensive spay/neuter programs with reliable funding sources have seen dramatic results: New Hampshire witnessed a 75% decrease in pet euthanasia rates, and New Jersey saw a 61% decrease after enacting a spay/neuter policy.
This small surcharge on the pet food industry will translate into a mere 75 cents per pet, per year for consumers while saving countless animal lives and taxpayer dollars.
 
What You Can Do
Please use the form below to thank Governor Justice and your state legislators for signing H.B. 2552, the spay/neuter bill, into law.
Thank you, West Virginia!