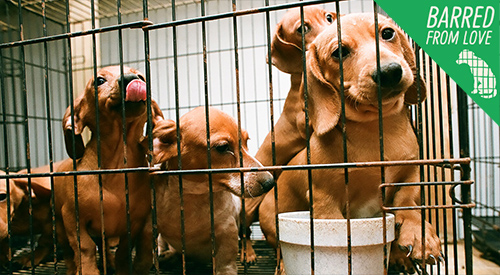 USA H.R. 1002—Welfare of Our Friends (WOOF!) Act
ASPCA Position: Support
Sponsors: Reps. Brian Fitzpatrick (R-PA), Charlie Crist (D-FL), Glenn "G.T." Thompson (R-PA), and Jim McGovern (D-MA)
Join the ASPCA in supporting federal legislation to hold the puppy-breeding industry more accountable. The Welfare of Our Friends (WOOF!) Act will ensure that problematic breeders (a.k.a. puppy mills) are kept out of business.
Dogs in federally licensed facilities often spend their entire lives in filthy, crowded cages stacked on top of one another with no access to adequate veterinary care or exercise. Standards are far too low, so imagine how terrible conditions must be for a breeder to have his/her license taken away! Unfortunately, in these cases, unscrupulous breeders can skirt enforcement by having family members apply for a new license, allowing the same business to continue as before—terrible conditions and all.  
The WOOF! Act will prevent a breeder whose license has been suspended or revoked from continuing to operate using the name of a family member or other member of the household.