USA: Bold New Plan to Protect Wild Horses and Burros Needs Your Support!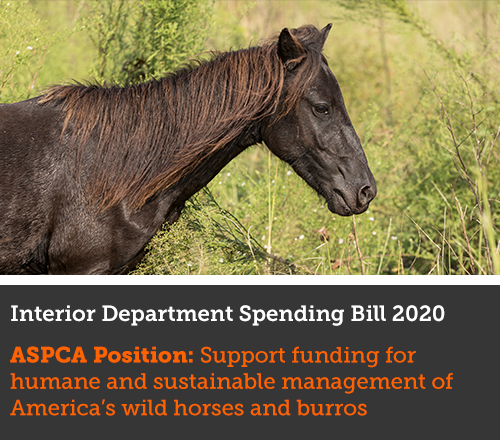 Update—September 26, 2019: In a win for our nation's majestic mustangs, today a U.S. Senate Committee approved a $35 million increase in funding for the Wild Horse and Burro Program directed towards sustainable protections for our nation's wild herds. Replacing the BLM's current unsustainable trajectory with a humane, non-lethal management framework, the Committee showed strong support for the ASPCA-backed proposal. The Senate Committee also doubled down on prohibitions on killing and sale to slaughter for BLM, extending them to wild horses and burros residing on U.S. Forest Service public lands. 

For too long, America's wild horses and burros have been facing a constant, building threat. The only way to ensure their safety now and into the future is to provide and implement a viable, non-lethal, real-world solution.
That's why the ASPCA has supported a wild horse and burro management plan to lawmakers that, if implemented correctly, will at long last put the Bureau of Land Management (BLM)—the federal agency responsible for the care and welfare of our wild horses and burros—on a humane and sustainable management path for these iconic herds.
The BLM will inevitably continue conducting round-ups and removals of wild horses and burros, but with this proposal, they'll finally couple removals with appropriate and more comprehensive implementation of fertility control, lifelong pasture for horses and burros removed from the range, and a robust adoption program to move horses and burros safely into private care. Most importantly, the threat of lethal management will be removed.
This new proposal is backed by a diverse set of stakeholders representing interests in wild horse advocacy, animal welfare, conservation, range management and public lands who have come together to support a more comprehensive, humane, sustainable approach to managing the rising populations of wild horses and burros both on and off the range.
 
What You Can Do
Please use the form below to tell your members of Congress that you want to see funding allocated toward the holistic management strategy for our wild horses and burros in the final 2020 Interior Appropriations bill.
On behalf of America's beloved wild herds, thank you!