USA: Fund Humane Plan for Wild Horses and Burros!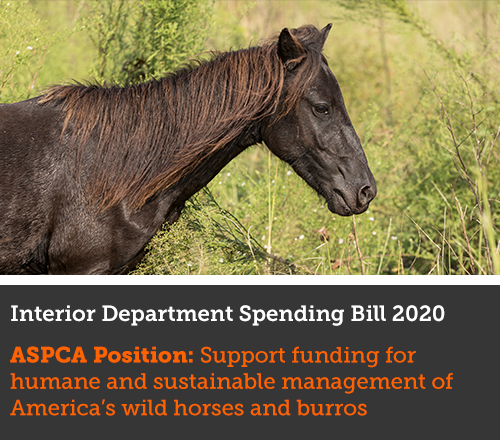 Update—December 3, 2019: Measures to protect wild horses are advancing in Congress—but we still need your help. In a win for our nation's majestic mustangs, bipartisan congressional committees have approved increases in funding for the Bureau of Land Management's (BLM) Wild Horse and Burro Program directed toward sustainable protections for our nation's wild herds. What's more, both the House and Senate have signaled their desire to protect wild horses and burros on U.S. Forest Service lands from harm. But to save these horses and protect them far into the future, we need your voice to help secure the following measures in the 2020 Interior Appropriations bill:
Horse Slaughter: Language forbidding the U.S. Forest Service from killing healthy wild horses and burros or selling them for slaughter.
Sustainable Management: Robust funding for a sustainable BLM Wild Horse and Burro management plan. The plan will gradually shift strategy away from gathering and removing horses from the range and focus on management using humane fertility control.
What You Can Do
The House and Senate are now in negotiations to decide what goes into the final funding bill, so please act quickly. Use the form below to urge your members of Congress to include language to protect wild horses and burros in the final 2020 Interior Appropriations bill.
On behalf of America's beloved wild herds, thank you!