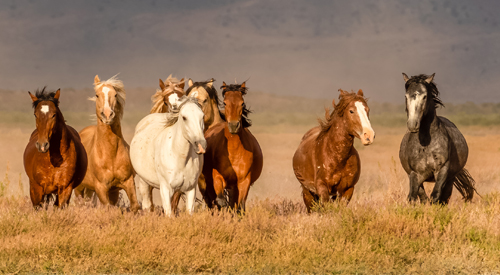 FY 2021 Federal Budget—Interior Appropriations
ASPCA Position: Support
Our nation's wild horses and burros remain under constant threat due to decades of mismanagement. But now we are on the verge of finally safeguarding their future. Congress has begun to chart a new, sustainable management plan for these iconic herds, and it is critical that it continues to support this work as it decides how federal funds will be used in 2021.
Last year, federal lawmakers took important steps to provide lasting protections for wild horses and burros:
First, Congress extended the prohibition on the use of lethal population control methods for herds living on U.S. Forest Service Land—a protection that wild horses and burros in Bureau of Land Management (BLM) areas have had since the 1990s.
Second, lawmakers included an additional $21 million for the BLM's Wild Horse and Burro program, directing the agency to build a sustainable, non-lethal management program centered on the use of humane fertility control to keep on-range populations in balance.
With this funding, Congress mandated that the agency strictly abide by welfare guidelines—which have not always been followed in the past.
While we applaud this important progress, we are still a long way from a managed horse and burro population free from threats of lethal management. That is why we need you to tell Congress that you support protecting our wild herds now and in the future!
What You Can Do
Please use the form below to email your U.S. representative and urge them to support funding in the FY 2021 Interior Appropriations bill to continue to protect our nation's wild horses and burros. Congress needs to hear from advocates like you today!
Thank you for speaking up for our nation's equines.