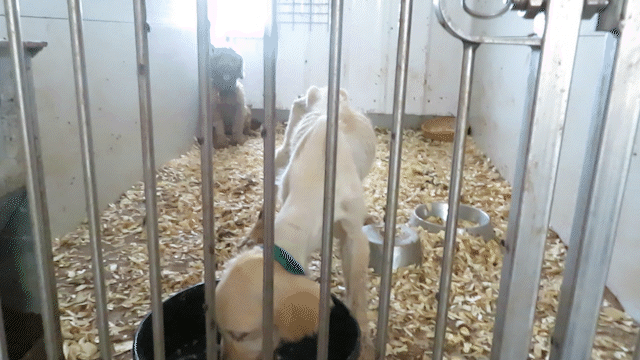 Goldie's Act
ASPCA Position: Support
About This Bill
Goldie's Act is critical legislation that would ensure the U.S. Department of Agriculture (USDA) is doing its job to protect dogs in federally licensed, commercial puppy-breeding facilities, also known as puppy mills. 
We are expecting Goldie's Act to be reintroduced in the coming weeks. But right now, Congress is choosing their priorities for the 2023 Farm Bill, and they need to hear that Goldie's Act should be one of them! 
The Farm Bill provides guidance for the USDA, so this is a huge opportunity to protect dogs in puppy mills. Decisions are being made NOW about what goes in—we need your voice!
Goldie's Story
In a USDA-licensed dog-breeding facility in Iowa, a young Golden Retriever suffered without fresh food, water, or veterinary care. She lived and died in a dirty cage, and she never experienced a safe, loving home. She was even denied a name: the breeder who owned her merely referred to her as Golden Retriever #142. We named her Goldie.
Goldie was one of hundreds of dogs kept in horrific conditions by this breeder. USDA inspectors documented Goldie's deterioration month after month, even filming her skeletal condition. They had the authority to help her, but USDA policies failed. Shockingly, her story is not unique. This is why we are calling on Congress to pass Goldie's Act.
What You Can Do
Don't delay: Use the easy form below to email your members of Congress to urge them to include Goldie's Act in the Farm Bill. Thank you!