USA: Reject Dangerous Amendments & Support Animal-Protection Measures in the 2018 Farm Bill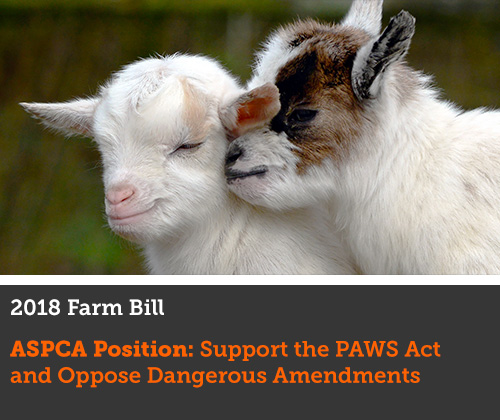 The full U.S. Senate will soon consider its version of the Farm Bill and has the opportunity to embrace important animal welfare provisions and reject harmful amendments that would roll back protections for animals.
The Senate's Farm Bill contains the Pet and Women Safety (PAWS) Act, vital legislation that will protect victims of domestic violence and their pets by making crossing state lines to injure a pet a federal offense. The bill, authored by Senators Gary Peters (D-MI) and Dean Heller (R-NV), will also allow victims to recover veterinary costs and establish grants to help house victims and their at-risk pets. The protections offered in the PAWS Act will help victims of domestic violence and their pets escape abusive environments and seek the safety and shelter they need.

While the inclusion of the PAWS Act is great news for animals, it's also important that the Senate reject the King Provision, or the so-called "Protect Interstate Commerce Act." This provision, included in the U.S. House version of the Farm Bill, seeks to strip states and localities of their ability to pass and enforce laws regarding the production of any "agricultural products"—a term so broad that it includes not only farm animals like cows and pigs, but also potentially dogs in puppy mills.

The Senate bill must also protect the ability of the National Organic Standards Board (NOSB) to make recommendations, such as animal welfare improvements, for our nation's organic farms. Consumers expect higher welfare for animals raised under the USDA Organic label, and the NOSB has consistently recommended changes to meet these expectations. However, Big Ag has been floating proposals to take over this board, curtail its power, and halt any progress for higher animal welfare.
 
What You Can Do
Your voice is critical to ensuring that the language in the Farm Bill reflects humane values, so please speak up today!
Please use the email below to contact your senators and ask them to support the PAWS Act and oppose the King Provision and any changes to the National Organic Standards Board. Don't forget to customize the message below and tell your senators why protecting farm animals is important to you!