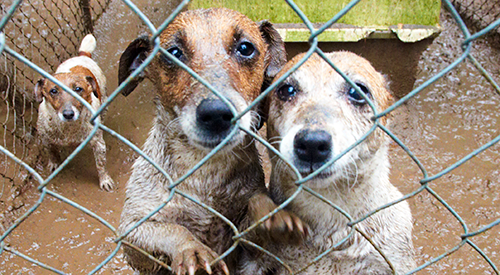 FY 2022 Federal Budget—Agriculture Appropriations
ASPCA Position: Support
Congress is beginning its work to set the federal government's spending priorities for the 2022 fiscal year.
You can help create a more compassionate world by contacting your legislators today to ask for their support on important spending measures to protect animals, including dogs in puppy mills, horses who may become at risk of slaughter, and pets caught up in domestic violence.
What You Can Do
Use the form below to email your members of Congress and urge them to:
Strengthen the Animal Welfare Act to better protect dogs in puppy mills.
Keep the slaughter of horses for human consumption OUT of the United States.
Include $3,000,000 in funding to expand a grant program that provides shelter for domestic violence survivors with companion animals.
Congress needs to hear from advocates like you right now! If you'd like to learn more about the appropriations process, watch our educational webinar! To take further action, learn more about our exciting advocacy volunteer opportunities.
Thank you for speaking up for animals!