USA: Demand Stronger Federal Puppy Mill Regulations!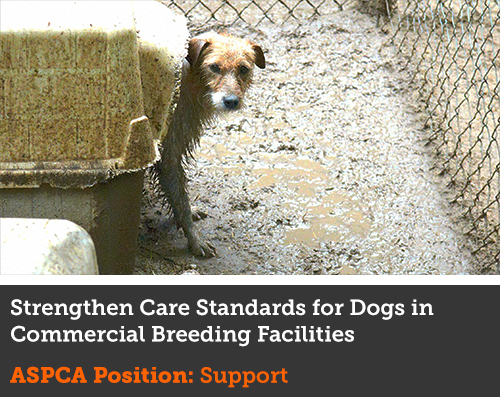 The United States Department of Agriculture (USDA) is responsible for licensing and regulating certain large-scale pet breeders—but the USDA's current standards of care are so weak that breeders can legally keep dogs in tiny, stacked cages with wire floors that may injure their paws and legs. Mother dogs can be bred at every heat cycle with no recovery time between litters. Breeders aren't even required to provide hands-on veterinary care to the dogs at their facilities. 
Most people agree that these standards do not amount to "humane care" for dogs in commercial breeding facilities. So while we work to eliminate puppy mills for good, we're taking immediate action to reduce the suffering of the dogs who are trapped in them.
In September 2015, the ASPCA, The Humane Society of the United States and the Humane Society Veterinary Medical Association filed a petition with the USDA urging the agency to strengthen protections for dogs in puppy mills (you can read the petition
here
and
here
). We're asking for annual hands-on veterinary exams, humane housing, proper socialization, and responsible breeding practices for the animals in the facilities the USDA licenses and inspects. The USDA has yet to respond to our request.
What You Can Do
Help us urge the USDA to take the first step in making long-overdue reforms to its commercial breeder regulations. Fill out the form below to email the U.S. Secretary of Agriculture and tell him to improve care standards for dogs in commercial breeding facilities.
 
Thank you for being a voice for these vulnerable dogs, America.